On September 17, 1862, Confederate General Lee launched an offensive into Maryland in an attempt to take the Civil War to Northern soil. He hoped to win Southern independence through victory in the North. Union General McClellan, dispatched to stop the Confederate advance, crossed Antietam creek with his forces to begin the attack that morning. After twelve terrible hours of battle, both sides had suffered tremendous losses. Sharpsburg, Maryland would be known as the site of the bloodiest one-day battle in American history. The Battle of Antietam claimed 23,000 dead, wounded, or missing — a stunning quarter of the 100,000 troops in the engagement. Despite this, the outcome of the battle was essentially a stalemate. However, Lee's withdrawal across the Potomac into Virginia the next day proved to be pivotal, prompting Lincoln to issue the Emancipation Proclamation which would shift the focus of the war.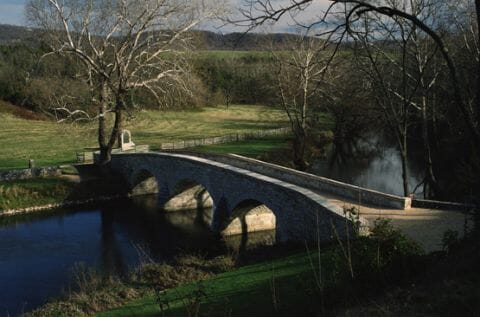 Antietam Battlefield, Maryland
• Maryland - Find travel information, maps, tourist resources, and more photos of Maryland.
• Antietam National Battlefield - Learn about Maryland's Battle of Antietam at the National Park Service website.

---
Copyright © 2006-2022 Zeducorp.
All rights reserved.

Antietam