On June 17, 1775, soon after the Battle of Lexington and Concord, British and American forces clashed at Bunker Hill. While the British were ultimately victorious, it was a hard-won battle, with the British losing over one thousand soldiers and a large number of officers — much higher than colonist losses. The strong showing of American "rebels" during this conflict galvanized a slow-moving Congress into action, drawing the colonies fully into the Revolutionary War. The Bunker Hill Monument was built to commemorate this Battle of Bunker Hill. The monument was dedicated on June 17, 1843 after sixteen years of intermittent construction. The 221-foot-high obelisk has 294 steps and was built entirely of granite extracted from a Quincy, Massachusetts quarry. The site was transferred to the National Park Service, its current steward, in 1976.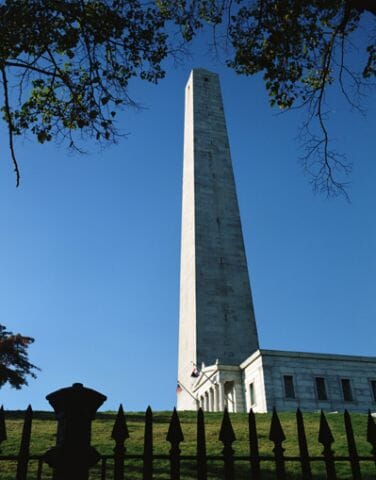 Bunker Hill Monument, Massachusetts
• Massachusetts - Find travel information, maps, tourist resources, and more photos of Massachusetts.
• Bunker Hill Monument - Learn about the Battle of Bunker Hill at this National Park Service site.

---
Copyright © 2006-2022 Zeducorp.
All rights reserved.

Bunker Hill