The cable car system in San Francisco was first conceived in 1869. Horses were having a difficult time climbing the steep hills of the city, especially when the cobblestone streets were wet. Wire rope had been patented in Great Britain and was being used to pull ore cars on tracks out of underground mines in the California gold area. The technology was first used for the cable car system in 1873. Cable cars are pulled by underground cables that are gripped with a grip lever controlled by a gripman. There are also front and rear wheel brakes which the gripman must operate.

There are two types of cable cars. The older Powell Street cars are single ended; turntables turn the car at each end of the line. California Street cars are double-ended; they do not require turntables, but cross to an opposing track to change direction. Tourists can visit The Cable Car Barn and Powerhouse to see the cable winding machinery in action. Exhibits explain the history and operation of the cable cars.

Three cable car routes currently operate in San Francisco. The system was rebuilt during the early 1980s, and the historic cars were refurbished.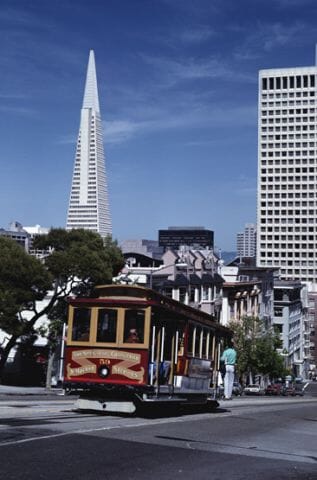 Cable Car in San Francisco
• California - Find travel information, maps, tourist resources, and more photos of California.
• San Francisco Cable Cars - Learn about San Francisco's fascinating cable cars and how they work.
• San Francisco Cable Car Museum - Learn the history of San Francisco, California's famous cable cars.

---
Copyright © 2006-2022 Zeducorp.
All rights reserved.

Cable Car