With 560 miles of sandy beaches along Cape Cod Bay and the Atlantic Ocean, Cape Cod is a popular tourist destination. Some of the best beaches can be found in Cape Cod National Seashore, a forty-mile stretch of oceanfront in Outer Cape Cod. Bay beaches are ideal for young children with their calm waters, while the ocean side offers rougher waters for the more adventurous. The beautiful beaches are not the only tourist draw, however. Each May, visitors converge on the region for Cape Cod Maritime Days, an annual celebration of local history that includes nautical art exhibits, kayak excursions, and tours of Cape Cod's many lighthouses, among other activities. Provincetown, on the northern tip of Cape Cod, is a thriving artist community. The Pilgrim Monument in Provincetown is a tribute to the Mayflower landing at that site on November 11, 1620. Cape Cod is perfect for family and outdoor activities as well as just relaxing on the beach.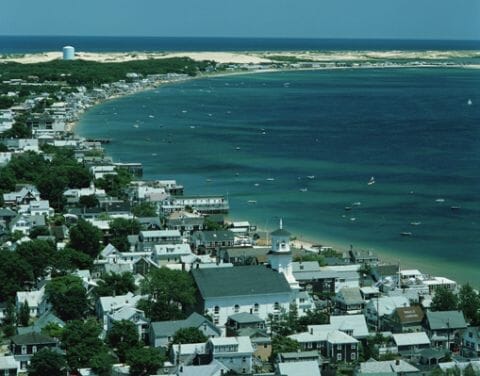 Cape Cod, Massachusetts
• Massachusetts - Find travel information, maps, tourist resources, and more photos of Massachusetts.
• Cape Cod National Seashore - Learn about this Massachusetts park at the official National Park Service site.
• Cape Cod Chamber of Commerce - Find travel and tourism information about Cape Cod, Massachusetts.

---
Copyright © 2006-2022 Zeducorp.
All rights reserved.

Cape Cod