Chicago has a fascinating history. From hosting the Chicago World's Fair in 1893 to serving as the infamous mobster Al Capone's home turf during the Prohibition years, this city has grabbed the spotlight during both good and bad times. Chicago, often called the Windy City as much for the bluster of its politicians as for any gusty weather, sprawls on the southwestern shore of Lake Michigan. The city of nearly 3 million is part of a larger metropolitan area encompassing parts of Wisconsin and Indiana as well as Illinois. Over thirty Fortune 500 companies make their home in this "Chicagoland" metro area. Major League Baseball's American and National Leagues are both represented, by the White Sox and Cubs, respectively. The Bears (NFL), Bulls (NBA), and Blackhawks (NHL) also play here. Visitors come for these national sports franchises as well as Chicago's thriving arts scene, lake shore beaches, and — not to be forgotten — its famous deep-dish pizza!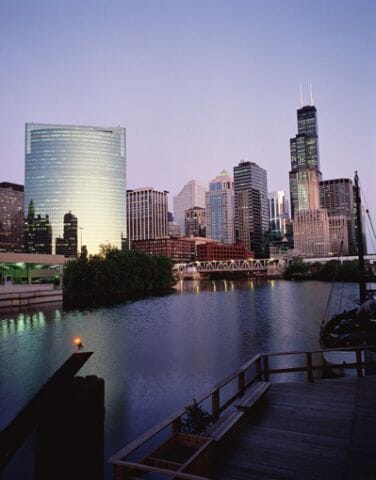 Chicago Skyline at Dusk
• Illinois - Find travel information, maps, tourist resources, and more photos of Illinois.
• City of Chicago - Learn about Chicago, Illinois at the official city government website.

---
Copyright © 2006-2022 Zeducorp.
All rights reserved.