Death Valley is a depression in California east of the Sierra Nevada Mountains. It is roughly 12 miles wide and 130 miles long near the Nevada border. The area is largely unpopulated and barren, with rocky ridges and desert plains. Dunes cover a relatively small area of the desert, but eroded canyons produce sand which is then blown by the wind and trapped in other areas. Dunes in the Death Valley area include the Eureka Dunes, Saline Valley Dunes, Panamint Dunes, and Ibex Dunes. Dune grass and plants grow in the sand and are valuable for catching and holding the drifting sand. Some of the plants produce beautiful flowers. Plants and animals are protected here by not allowing off-road vehicle travel.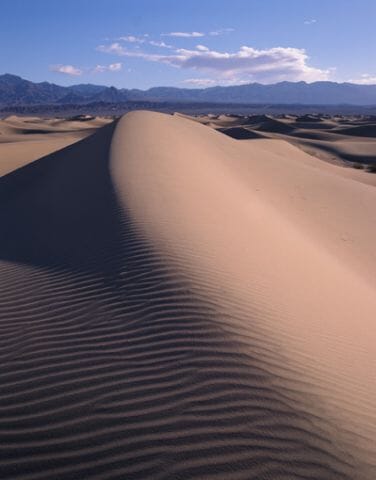 Death Valley Dunes
• California - Find travel information, maps, tourist resources, and more photos of California.
• Death Valley National Park - Learn about this California park at the official National Park Service site.

---
Copyright © 2006-2022 Zeducorp.
All rights reserved.

Death Valley