Detroit, as the historic heart of the American automobile industry, is often referred to as Motor City or Motown. Henry Ford built an empire here. Other car companies prospered in Detroit as well, and from the 1940s to the early 60s, the city was known as one of the greatest manufacturing centers in the world. With the departure of factories to foreign shores, Detroit has suffered a painful decline. However, sites such as the Motown Historical Museum pay tribute to Detroit's glory years. Artists such as The Supremes, Marvin Gaye, and Stevie Wonder contributed legendary music to America's heritage through the Motown record label in Detroit. Several professional sports teams play here. The Detroit Tigers were Major League Baseball's 2006 American League Champions. The NHL's Detroit Red Wings took home the Stanley Cup in 2002. The Pistons in the NBA and the Lions in the NFL round out Detroit's major sports offerings.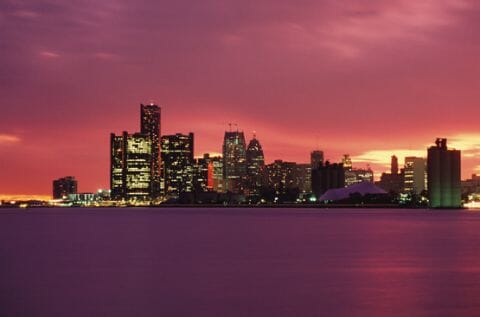 Detroit Skyline at Dusk
• Michigan - Find travel information, maps, tourist resources, and more photos of Michigan.
• City of Detroit, Michigan - Visit the official government website for the City of Detroit.
• Visit Detroit - Travel information from the Detroit Metro Convention & Visitors Bureau.
• Detroit Guide - Business directory and maps of Detroit, Michigan.

---
Copyright © 2006-2022 Zeducorp.
All rights reserved.

Detroit