From 1892 to 1954, a small island in New York Harbor played a crucial role in United States history. Ellis Island, named the first Federal immigration station by President Harrison in 1890, processed over 12 million immigrants entering the country before its closure in November 1954. In the early years, most came from northern and western Europe; later decades saw waves of immigration from southern and eastern Europe. A fire burned the original building to the ground on June 14, 1897, destroying decades of immigration information which had been stored there. A new building, which still stands today as the Ellis Island Immigration Museum, was opened on December 17, 1900.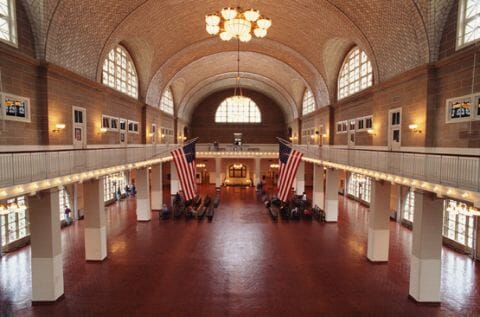 Interior of Ellis Island Museum
• New-York - Find travel information, maps, tourist resources, and more photos of New-York.
• Statue of Liberty - Ellis Island Foundation - Browse the Immigration History Center and search passenger arrivals.
• Ellis Island National Monument - Learn about the Ellis Island National Monument and Immigration Museum.

---
Copyright © 2006-2022 Zeducorp.
All rights reserved.

Ellis Island