St. Louis earned its title as the "Gateway to the West" from the wagon trains departing from the city for Oregon, California, and other points west. The Gateway Arch, built in 1965, is a monument to this westward expansion of frontier America. St. Louis continues to be a cultural center in the Midwest. While the city itself is home to 356,000 citizens, it is at the heart of a metropolitan area with a population over 2.5 million. St. Louis is known for its contributions to ragtime, jazz, and blues. Renowned composer Scott Joplin wrote "The Entertainer" along with other well-known ragtime tunes while living here. The Anheuser-Busch Brewery is just one of many breweries begun in St. Louis by German immigrants in the mid 1800s, whose skills most often lay in bricklaying or brewing beer. In 1904, St. Louis became the first American city to host the Olympic games. It continues in that tradition with its ten-time World Series Champions, the St. Louis Cardinals, in Major League Baseball. The franchise's most recent title came in 2006 in a new Busch Stadium. Other professional sports teams represented here are the Blues (NHL) and the Rams (NFL).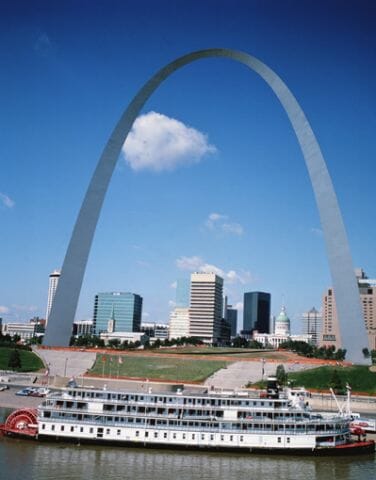 Gateway Arch in St. Louis, Missouri
• Missouri - Find travel information, maps, tourist resources, and more photos of Missouri.
• Jefferson National Expansion Memorial - Learn about this Missouri memorial at the official National Park Service site.
• Gateway Arch - Official Gateway Arch Riverfront website.

---
Copyright © 2006-2022 Zeducorp.
All rights reserved.

Gateway Arch