The dazzling lights of Las Vegas, Nevada stand in stark contrast to the surrounding Mojave Desert. Famous casinos such as the MGM Grand, Caesar's Palace, Mandalay Bay, and Bellagio line the glittering Strip. Themes vary wildly, with casinos styled after elegant Victorian mansions, South Seas resorts, medieval castles, and even cities such as Paris and Venice. An estimated 34 million tourists visit for the pageantry, luxury, partying, and, of course, the gambling. Gambling in Las Vegas, after World War II, was tied closely to the mob. Today, it is closely regulated and provides nearly half of the state's income. The slot machines, roulette wheels, and card tables rake in nearly $10 billion dollars for the industry each year. It is easy to see how Las Vegas has earned its nickname of "Sin City." However, not all visitors come to Las Vegas looking to gamble. The many casinos also offer world-class dining, spas, golf, shopping, and entertainment. Concert and theatrical venues attract the most famous talents. Las Vegas Motor Speedway offers NASCAR and exotics racing. One casino, named Circus Circus, is geared specifically towards families, with a midway and regular circus performances.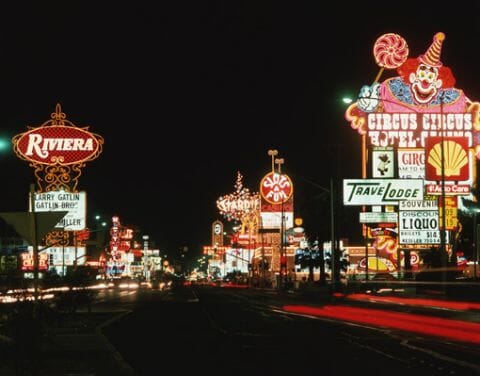 Street in Las Vegas
• Nevada - Find travel information, maps, tourist resources, and more photos of Nevada.
• Las Vegas, Nevada - Visit the official City of Las Vegas web site online rather than in line.
• Las Vegas Convention and Visitors Authority - Welcome to the official Las Vegas tourism web site.
• Las Vegas Guide - Business directory and maps of Las Vegas, Nevada.

---
Copyright © 2006-2022 Zeducorp.
All rights reserved.

Las Vegas