Niagara Falls State Park is the oldest state park in the United States, established as the Niagara Reservation in 1885 to prevent over-development of the falls area. Hydroelectric dams providing over 4 million kilowatts of power to the United States and Canada are carefully incorporated so as to not interfere with visitors' enjoyment of the falls. The landmark is made up of three separate sites. Horseshoe Falls, often called Canadian Falls because it is located mainly on the Canadian side, is the most spectacular of the three. American and Bridal Veil Falls are located on the American side, in New York. Over 15 million tourists travel to Niagara Falls each year, viewing the splendor of this natural wonder up close from observation towers or on tours such as the popular Maid of the Mist boat ride.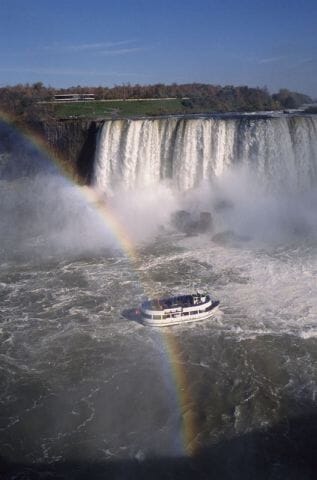 Niagara Falls, New York
• New York - Find travel information, maps, tourist resources, and more photos of New York State.
• Niagara USA - The Niagara Tourism & Convention Corporation sponsors this website.
• Niagara Falls State Park - Learn about this popular park and waterfall located in Niagara Falls, New York.

---
Copyright © 2006-2022 Zeducorp.
All rights reserved.

Niagara Falls