Omaha, with a population of nearly half a million people, is the largest city in Nebraska. It sits on the western shore of the Missouri River, sharing a metropolitan area with Council Bluffs, Iowa, on the opposite bank. Omaha was the birthplace of several famous actors, including Fred Astaire, Marlon Brando, and Nick Nolte. Warren Buffett, one of the wealthiest businessmen in the world, still lives in Omaha where he was born. On the National Register of Historic Places, Old Market is the city's entertainment center, featuring shopping, restaurants, and art galleries. The city's rich musical heritage is celebrated with the annual Omaha Blues, Jazz, & Gospel Festival. The River City Rodeo held here is the second-largest rodeo in the world. Major colleges include the University of Nebraska at Omaha and Creighton Universities.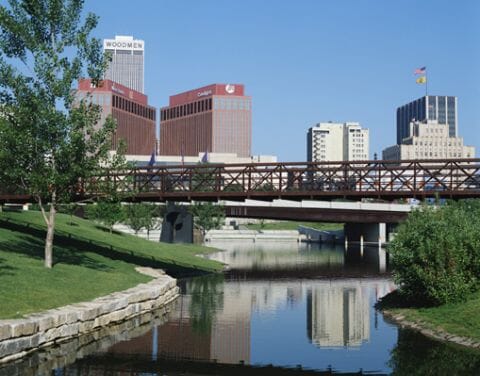 Skyline of Omaha
• Nebraska - Find travel information, maps, tourist resources, and more photos of Nebraska.
• Welcome to Omaha - Visit the official government site for the city of Omaha, Nebraska.
• Visit Omaha - Official website of the Greater Omaha Convention & Visitors Bureau.
• Omaha Guide - Business directory and maps of Omaha, Nebraska.

---
Copyright © 2006-2022 Zeducorp.
All rights reserved.

Omaha