San Diego, California, is located on the coast in San Diego County, just north of the Mexican border and south of Orange County. It has a semi-arid climate with mild, sunny weather for most of the year. San Diego's topography includes the San Diego Bay as well as mountains, canyons, and hills.

Since the 1980s, San Diego has been undergoing urban renewal, reviving the Gaslamp Quarter and pursuing construction of the San Diego Convention Center. There are a number of beaches and parks in San Diego, including Balboa Park whose original buildings were part of two World's Fairs and other expositions. The San Diego Zoo and Seaworld are also well-known attractions, and museums are available to satisfy a variety of interests. San Diego is home to the San Diego Padres and the San Diego Chargers. Ocean surfing and skateboarding are popular outdoor activities in San Diego County.

San Diego's economy centers around defense, manufacturing, and tourism. Since World War II, the area has emerged as a biotechnology center with research institutes in La Jolla's Torrey Pines area. The military has facilities for the United States Navy, the United States Marine Corps, and the United States Coast Guard. The San Diego area's large submarine and shipbuilding yards serve the West Coast.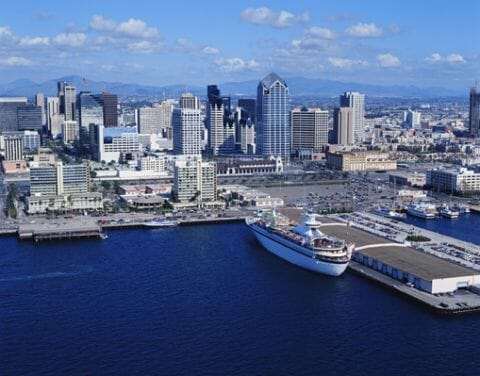 Aerial of San Diego
• California - Find travel information, maps, tourist resources, and more photos of California.
• City of San Diego - Visit the official San Diego, California government website.
• San Diego Convention & Visitors Bureau - This site is the official travel resource for the San Diego region.
• San Diego Guide - Business directory and maps of San Diego, California.

---
Copyright © 2006-2022 Zeducorp.
All rights reserved.

San Diego