Santa Cruz is located at the northern end of Monterey Bay. Surfing along the Santa Cruz coastline began in the 1930s when local teens in Mission Hill took up the sport and made their boards in their wood shop class. They discovered the surf of the Monterey Bay and passed on their love for surfing to the local youth in Santa Cruz. However, boards were heavy at that time, so the Santa Cruz Surfing Club was started to store the boards instead of transporting them between home and the beach for each surfing expedition.

Ocean surfing in Santa Cruz still remains a passion. Surf schools teach surfing and water safety. There are a variety of beaches here, from beginner level to professional level. The Santa Cruz Surfing Museum overlooks Steamer Lane, a well-known surfing site, and several surf shops are available for purchase or rental of boards and supplies. Santa Cruz is not known as the "Original Surf City" for no reason!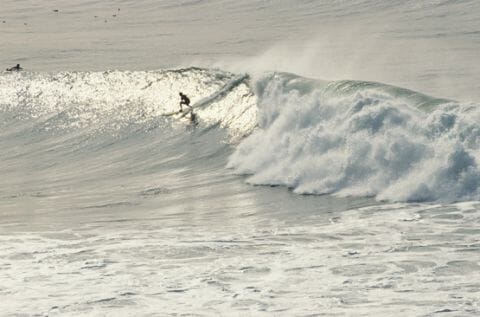 Surfer in Santa Cruz
• California - Find travel information, maps, tourist resources, and more photos of California.
• Santa Cruz City - Visit the official Santa Cruz, California government website.
• Santa Cruz Guide - Business directory and maps of Santa Cruz, California.

---
Copyright © 2006-2022 Zeducorp.
All rights reserved.

Santa Cruz