Fantastic Spanish missions, traditional adobe, and an abundance of local arts and crafts, set in the breathtaking high desert of the Southwest, make Santa Fe a stunningly beautiful city to visit. The capital of New Mexico boasts a population of a little over 70,000 people, divided primarily between hispanics and whites. There is also a sizable Native American population. This group's influence is ubiquitous in this region, from the adobe style frequently used for homes to the jewelry, pottery, and weaving which dominates local industry. Silver and turquoise necklaces, bracelets, and earrings are crafted in in traditional forms. Hand-woven rugs and baskets also carry native motifs. The influence of Spanish missionaries can also be felt. The nation's oldest church, San Miguel Mission, is located here. Another Spanish monument, Saint Francis Cathedral, is one of the most fantastic missions built in New Mexico and one of the city's most prominent landmarks. The arts are joyously celebrated with craft fairs, concerts, and Spanish and Indian markets held regularly in Santa Fe Plaza, at the heart of the city.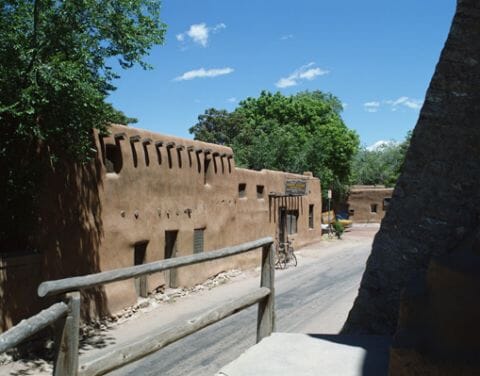 Adobe House in Santa Fe
• New Mexico - Find travel information, maps, tourist resources, and more photos of New Mexico.
• City of Santa Fe - Visit the official Santa Fe, New Mexico government website.
• Santa Fe New Mexico Visitors Information - Features information for tourists, meeting planners, and travel professionals.

---
Copyright © 2006-2022 Zeducorp.
All rights reserved.

Santa Fe