Established in 1872 as the world's first national park, Yellowstone is named for the river which flows northward through the region. Nestled in the Rockies at 7,700 feet above sea level, the park sprawls across northwestern Wyoming, with parts spilling over into southern Montana and eastern Idaho. About two million visitors tour the park annually to view its famous landmarks and enjoy its 2.2 million acres of unspoiled wilderness. Yellowstone boasts the highest concentration of geysers, hot springs, and other hydrothermal features in the world, including the famous Old Faithful geyser. Popular activities include camping, hiking, flyfishing, and snowmobiling as well as photography, mountain climbing, and boating. Snow coach and horseback tours are also favorites.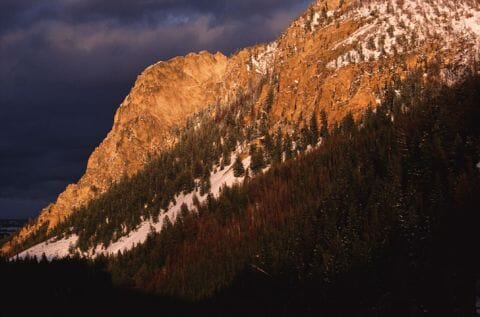 Mountain in Yellowstone National Park
• Wyoming - Find travel information, maps, tourist resources, and more photos of Wyoming.
• Yellowstone National Park - Learn about this popular park located in Wyoming, Idaho, and Montana.

---
Copyright © 2006-2022 Zeducorp.
All rights reserved.

Yellowstone National Park