Yosemite National Park, located in the central Sierra Nevada Mountains, is a 1,200 square mile area filled with cliffs, unusual rock formations, giant sequoia groves, rare plants, and impressive waterfalls. Yet most visitors to the park visit only the Yosemite Valley. The majority of the park is designated as a wilderness area. The park has thousands of ponds and lakes, as well as valleys and canyons. Rock formations, such as El Capitan, are frequently used for rock climbing, and Half Dome rises 4,800 feet above the Yosemite Valley floor. Three groves of Giant Sequoia trees remain in the park. Waterfalls are especially beautiful during the snowmelt season months of April, May, and June. One of the most well-known is Bridalveil Fall. Most of Yosemite's precipitation falls during its mild winter. Wildlife abounds among the forests of pine, fir, and oak.

Camping and lodging are both available in Yosemite National Park. Campsites or heated cabins can be reserved, and deluxe rooms are available at The Ahwahnee, Wawona Hotel, or the Yosemite Lodge at the Falls.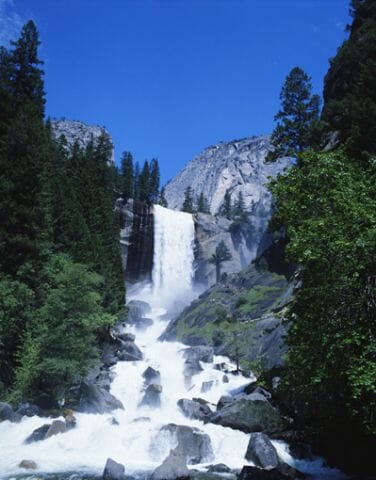 Waterfall, Yosemite National Park
• California - Find travel information, maps, tourist resources, and more photos of California.
• Yosemite National Park - Learn about this California park at the official National Park Service website.

---
Copyright © 2006-2022 Zeducorp.
All rights reserved.

Yosemite National Park