Oklahoma facts and history plus travel and tourism information.
Capital: Oklahoma City
Abbreviations: OK (postal), Okla.
Area: 69,903 square miles
State Bird: Scissor-tailed Flycatcher
State Tree: Redbud
State Flower: Mistletoe
State Motto: Labor Omnia Vincit - Labor conquers all things
Nickname: The Sooner State

| | |
| --- | --- |
| Skyline of Oklahoma City | |
Located in south central United States, Oklahoma features a warm, dry climate. Its name, signifying red people, is derived from two Choctaw words: okla and humma.
Between 1830 and 1842, Cherokee, Chickasaw, Choctaw, Creek, and Seminole Native Americans were forced to march the "Trail of Tears" from their homelands to Oklahoma, where they were promised land. Many died along the way, and once in Oklahoma, the tribes established governments, schools, and farms. However, in 1889, the United States government opened up the land to freed slaves and other settlers. Oklahoma joined the US on November 16, 1907 as the 46th state.
The Great Depression and a widespread drought in the 1930s brought hardship to many Oklahoma residents, but by the 1950s, industry grew in the state. Oklahoma City, the capital, boasts a huge cattle market, and Tulsa is home to museums and jazz. Oklahoma's Native American heritage also continues to attract tourists.
Oklahoma Map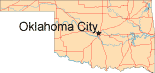 Oklahoma Links
Oklahoma Resources
---
Copyright © 2005-2023 Zeducorp.
All rights reserved.
For your convenience, each external link will open in a new window.
Oklahoma History and Geography