United States of America Overview and Color Map
The United States is located on the continent of North America, and is commonly known as the United States of America (USA). The USA consists of 50 states, and encompasses a total area of 3,679,245 square miles and a land area of 3,537,438 square miles. The United States population in the year 2000 census was 281,421,906, an average of 79.6 persons per square mile. The estimated population in the year 2003 was 291,587,000.
Continental USA, sometimes called the "lower 48 states", is bordered on the north by Canada, on the south by Mexico, and on the southeast by The Bahamas. The state of Alaska is bordered on the east by Canada and on the west by Russia. This map of United States shows its relationship to these neighboring countries as well as the names and boundaries of each state. This site also features a printable USA map showing capital cities and other large cities as well as major interstate highways. For detailed road maps and topographical maps of the USA and its regions, please visit United-States-Map.com.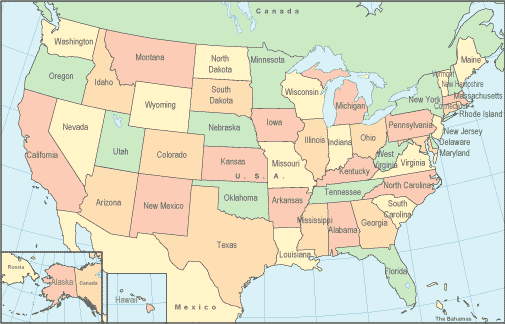 ---
Copyright © 2005-2023 Zeducorp.
All rights reserved.
Map of United States