Crater Lake is a stunning national park located in Southern Oregon, approximately 100 miles inland from the Pacific Ocean. Sheer cliffs, nearly 2000 feet high, surround deep blue waters and two islands. At 1,943 feet deep, Crater Lake is the seventh deepest lake in the world; a staggering 45 feet of winter snowfall falls in the region each year, replenishing lake waters lost to evaporation and seepage. This natural masterpiece is cupped in a caldera created by the collapse of 12,000-foot Mount Mazama following a massive volcanic eruption. The lake's natural beauty has inspired artists such as photographer Fred Kiser, hired by the Great Northern Railroad in the early 1900s to promote American tourism. The beautiful scenery is complemented by broad opportunities for scientific discovery. The Crater Lake Science and Learning Center is designed to encourage exploration by scientists, teachers, students, and artists alike.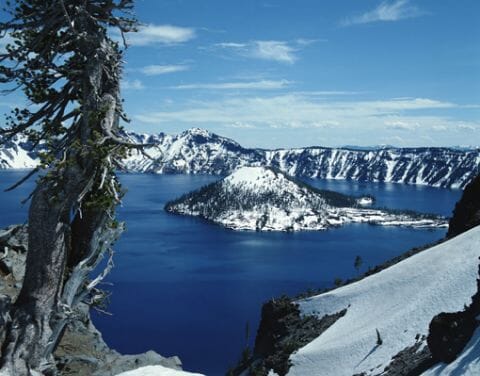 Crater Lake, Oregon
• Oregon - Find travel information, maps, tourist resources, and more photos of Oregon.
• Crater Lake National Park - Learn about this Oregon park at the official National Park Service site.

---
Copyright © 2006-2022 Zeducorp.
All rights reserved.

Crater Lake