Honolulu is the capital of Hawaii. The city is located on Oahu, the third-largest of the lush, tropical Hawaiian Islands. Sports and leisure activities revolve around the islands' natural beauty. World-famous Waikiki Beach borders the Pacific Ocean just minutes south of Honolulu's center. The thrilling Triple Crown of Surfing is held at three different beaches on Oahu. Picturesque golf courses dot the island within easy driving distance of the capital. Honolulu is also a center of culture and history, boasting a range of attractions from Iolani Palace, the only royal palace in the United States, to a vibrant downtown. The city is adjacent to Pearl Harbor, site of the infamous Japanese attack that drew the United States into World War II. The harbor borders Honolulu International Airport, the primary access point for the island. This, Hawaii's main airport, serves as a central jumping-off point for travel within the island chain.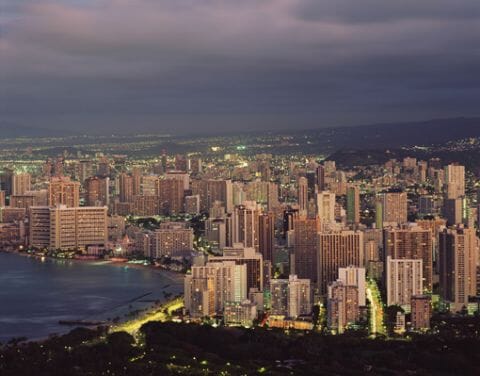 Honolulu Cityscape
• Hawaii - Find travel information, maps, tourist resources, and more photos of Hawaii.
• Honolulu, Hawaii - Visit the official website for the City and County of Honolulu.
• Honolulu Guide - Business directory and maps of Honolulu, Hawaii.

---
Copyright © 2006-2022 Zeducorp.
All rights reserved.

Honolulu