Hawaii facts and history plus travel and tourism information.
Capital: Honolulu
Abbreviation: HI (postal)
Area: 6,459 square miles
State Bird: Nene
State Tree: Kukui
State Flower: Pua Aloalo - Yellow Hibiscus
State Motto: Ua Mau Ke Ea O Ka Aina I Ka Pono - The life of the land is perpetuated in righteousness
Nickname: The Aloha State

As one of America's most unique states, Hawaii consists of about 130 islands lying just below the Tropic of Cancer in the central Pacific Ocean. Polynesians settled the islands about a millennium ago, dubbing them the Land of Raging Fires. Europeans first set foot on Hawaii when Captain James Cook's expedition visited the islands and made contact with the Hawaiian people in 1778.
Hawaii was annexed by the United States in 1898, and became a US territory two years later. Even though the islands were rather remote, their tropical climate and friendly local people attracted visitors year after year. Since joining the Union as the 50th state on August 21, 1959, Hawaii's eight major islands, Big Island (Hawaii), Maui, Lanai, Molokai, Oahu, Kauai, Kahoolawe, and Niihau, have become major tourist attractions.
Leis, luaus, and a unique Hawaiian language with more vowels than consonants characterize the culture and traditions of the Hawaiian people. Much of the state is beautiful and unspoiled, with volcanic geology, gorgeous beaches, and terrific waves for surfing. Developments in Honolulu, Waikiki, and Kihei contribute hotels and resorts to the huge tourism industry, but delicious Hawaiian pineapples and sugar also support the islands' economy.
Hawaii Map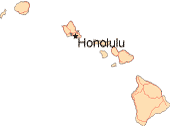 Hawaii Links
Hawaii Resources
---
Copyright © 2005-2023 Zeducorp.
All rights reserved.
For your convenience, each external link will open in a new window.
Hawaii History and Geography