Lake Powell, Utah is stunning in its setting among the red cliffs and rock formations of Glen Canyon National Recreation Area. Visitors flock here to houseboat, waterski, wakeboard, and fish on its blue-green waters. Remote canyons invite exploration, whether by hiking, canoe, or kayak. The Cathedral in the Desert is a surreal chamber of red rock, green mosses, and ferns, illuminated by a sunbeam through a fissure at the top. Horseback riders and hikers can visit Rainbow Bridge, a 290-foot arch of red stone which is the largest natural bridge in the world. Tour boats also offer access to this and other popular spots. Page, Arizona, located on the southwestern corner of Lake Powell, is the ideal access point for the lake, as well as the Grand Canyon and other gorgeous national parks in the region.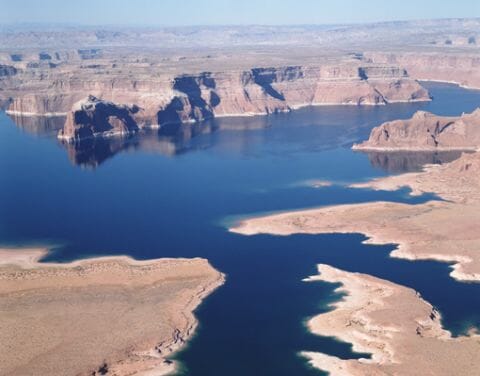 Aerial View of Lake Powell
• Utah - Find travel information, maps, tourist resources, and more photos of Utah.
• Glen Canyon National Recreation Area - Learn about this popular recreational park located in Arizona and Utah.

---
Copyright © 2006-2022 Zeducorp.
All rights reserved.

Lake Powell