Salt Lake City was founded on July 24, 1847, by Brigham Young, the founder of Mormonism. From an original population of under 150 people, the city has grown to nearly 200,000 residents. This region's religious roots are easily seen in the Mormon Temple, which anchors Temple Square downtown. Next door to the temple is Salt Lake Tabernacle, home to the famous Mormon Tabernacle Choir. At 4,330 feet (1,320 meters) above sea level, and surrounded by the Wasatch Mountains to the east and north and the Oquirrh Mountains to the west, the city was an ideal site for the 2002 Winter Olympics. The snow-capped peaks ringing this valley gave rise to its reputation for having the "Greatest Snow on Earth".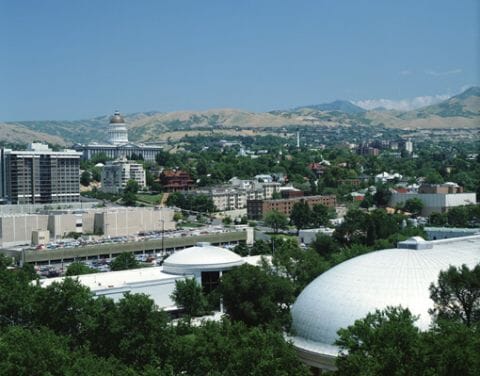 Salt Lake City, Utah
• Utah - Find travel information, maps, tourist resources, and more photos of Utah.
• Welcome to Salt Lake City - Visit this official Salt Lake City, Utah government website.
• Salt Lake Convention and Visitors Bureau - Features information for visitors, meeting planners, and tour professionals.
• Salt Lake City Guide - Business directory and maps of Salt Lake City, Utah.

---
Copyright © 2006-2022 Zeducorp.
All rights reserved.

Salt Lake City