The State of Alaska has a variety of museums, visitor centers, and cultural attractions in the following counties. Before visiting a museum listed on this page, be sure to check its address and hours of operation by visiting its website or contacting it. The museum may have relocated or closed, and hours of operation may be irregular. Tourist information is available at your fingertips by clicking on the Alaska county name you are interested in visiting.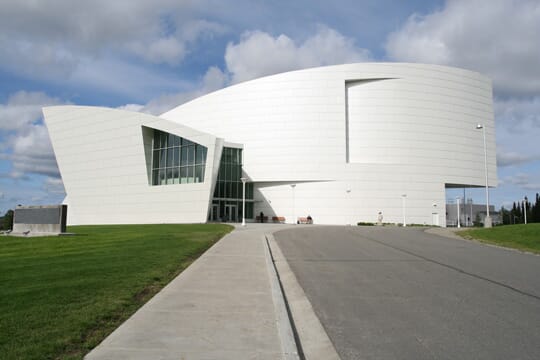 Museum of the North, Fairbanks, Alaska
Each county is suffixed by a parenthesized value, indicating the number of listings in that county.
Alaska Counties
---
Anchorage County
Fairbanks North Star County
Juneau County
Kenai Peninsula County
Hope & Sunrise Museum
2nd Street
Hope, Alaska 99605 Map
1-907-782-3740
Kenai Visitors & Convention Bureau Inc
11471 Kenai Spur Highway
Kenai, Alaska 99611 Map
1-907-283-1991
Ketchikan Gateway County
Kodiak Island County
Alutiiq Museam
215 Mission Road
Kodiak, Alaska 99615 Map
1-907-486-7004
Evangelical Museum & Production
3201 Bay View Drive
Kodiak, Alaska 99615 Map
1-907-486-4666
Kodiak Island Convention & Visitors Bureau
100 East Marine Way
Kodiak, Alaska 99615 Map
1-907-486-4782
Matanuska Susitna County
Sitka County
Skagway Hoonah Angoon County
Valdez Cordova County
Maxine & Jesse Whitney Museum
300 Airport Road
Valdez, Alaska 99686 Map
1-907-835-8931
Valdez Convention & Visitors Bureau
200 Chenega
Valdez, Alaska 99686 Map
1-907-835-2984
Valdez Museum and Historical Archive
217 Egan Drive
Valdez, Alaska 99686 Map
1-907-835-2764
Wrangell Petersburg County
Visitor Information Center
PO Box 649
Petersburg, Alaska 99833 Map
1-907-772-4636
---
Related Sites
Alaska Map features road maps, topographical maps, and relief maps of Alaska.
---
Copyright © 2006-2023 Zeducorp.
All rights reserved.
Alaska Travel & Tourism Information