The State of Nebraska has a variety of museums, visitor centers, and cultural attractions in the following counties. Before visiting a museum listed on this page, be sure to check its address and hours of operation by visiting its website or contacting it. The museum may have relocated or closed, and hours of operation may be irregular. Tourist information is available at your fingertips by clicking on the Nebraska county name you are interested in visiting.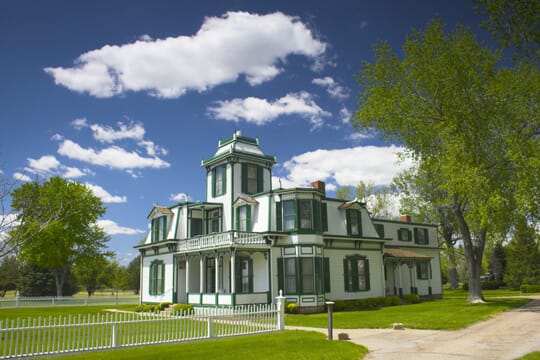 Buffalo Bill Ranch Museum, North Platte, Nebraska
Each county is suffixed by a parenthesized value, indicating the number of listings in that county.
Nebraska Counties
---
Cheyenne County
Cheyenne County Historical Association
544 Jackson Street
Sidney, Nebraska 69162 Map
1-308-254-2150
Custer County
Dawson County
Dodge County
North Platte Area Children's Museum
314 North Jeffers Street
North Platte, Nebraska 68649 Map
1-308-532-3512
Located in the Fremont area.
Garfield County
Burwell Convention & Visitors Bureau
404 Grand Avenue
Burwell, Nebraska 68823 Map
1-308-346-5210
Garfield CO Historical Museum
737 H Street
Burwell, Nebraska 68823 Map
1-308-346-5632
Hamilton County
Keith County
Nebraska National Trails Museum Foundation Inc
510 East 1st Street
Ogallala, Nebraska 69153 Map
1-308-284-2000
Lancaster County
Lincoln County
Nebraska Tourism Visitor Center
27201 West I80
Sutherland, Nebraska 69165 Map
1-308-386-2534
Located in the North Platte area.
Madison County
Platte County
Polish Heritage Center Inc
226 West Carleton
Ashton, Nebraska 68601 Map
1-308-738-2249
Located in the Columbus area.
Red Willow County
Museum of the High Plains Historical Society
421 Norris Avenue
Mc Cook, Nebraska 69001 Map
1-308-345-3661
Sarpy County
Sarpy County Historical Museum
2402 Clay Street
Bellevue, Nebraska 68005 Map
1-402-292-1880
Located in the Omaha area.
Saunders County
Nebraska's Wildlife Safari Park
16406 292nd Street
Ashland, Nebraska 68003 Map
1-402-944-9453
Located in the Omaha area.
Scotts Bluff County
Gering Convention & Visitors Bureau
1050 M Street
Gering, Nebraska 69341 Map
1-308-436-6886
Located in the Scottsbluff area.
West Nebraska Family Research & History Center
1602 Avenue A
Scottsbluff, Nebraska 69361 Map
1-308-635-2400
Thayer County
Thurston County
Washington County Historical Museum
102 South 14th Street
Fort Calhoun, Nebraska 68067 Map
1-402-468-5740
Wayne County
Webster County Historical Museum
721 West 4th Avenue
Red Cloud, Nebraska 68787 Map
1-402-746-2444
---
Related Sites
Nebraska Map features road maps, topographical maps, and relief maps of Nebraska.
---
Copyright © 2006-2023 Zeducorp.
All rights reserved.
Nebraska Travel & Tourism Information