The State of New Hampshire has a variety of museums, visitor centers, and cultural attractions in the following counties. Before visiting a museum listed on this page, be sure to check its address and hours of operation by visiting its website or contacting it. The museum may have relocated or closed, and hours of operation may be irregular. Tourist information is available at your fingertips by clicking on the New Hampshire county name you are interested in visiting.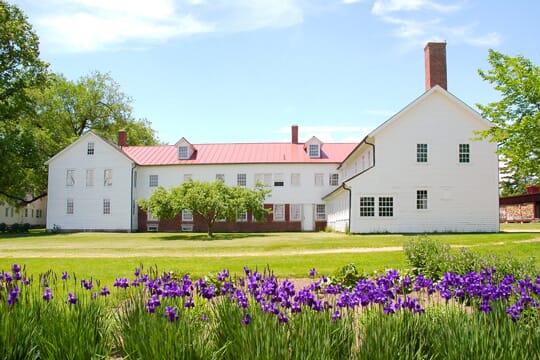 Canterbury Shaker Village, Canterbury, New Hampshire
Each county is suffixed by a parenthesized value, indicating the number of listings in that county.
New Hampshire Counties
---
Belknap County
Lake Winnipesaukee Historical Society Museum
503 Endicott Street North
Laconia, New Hampshire 03246 Map
1-603-366-5950
Carroll County
Salyards Museum
110 East Main Street
Conway, New Hampshire 03818 Map
1-603-447-6096
Cheshire County
Historic Harrisville Inc
Mill Alley
Harrisville, New Hampshire 03450 Map
1-603-827-3722
Located in the Keene area.
Horatio Colony Museum
199 Main Street
Keene, New Hampshire 03431 Map
1-603-352-0460
Winchester Historical Society Museum
391 Back Ashuelot Road
Winchester, New Hampshire 03470 Map
1-603-239-7399
Located in the Keene area.
Coos County
Grafton County
Hillsborough County
Merrimack County
Mary Baker Eddy Historic House
62 North State Street
Concord, New Hampshire 03301 Map
1-603-225-3444
New Hampshire Historical
30 Park
Concord, New Hampshire 03301 Map
1-603-224-0463
Aidron Duckworth Trust & Art Museum
21 Bean Road
Warner, New Hampshire 03278 Map
1-603-469-3444
Located in the Concord area.
Rockingham County
American Independence Museum
1 Governors Lane
Exeter, New Hampshire 03833 Map
1-603-772-2622
Tuck Museum
40 Park Avenue
Hampton, New Hampshire 03842 Map
1-603-929-0781
Located in the Portsmouth-Exeter area.
Wentworth Coolidge State Historic Mansion
375 Little Harbor Road
Portsmouth, New Hampshire 03801 Map
1-603-436-6607
Sullivan County
Newport Historical Society Museum
Court House
Newport, New Hampshire 03773 Map
1-603-863-1294
Located in the Claremont area.
---
Related Sites
New Hampshire Map features road maps, topographical maps, and relief maps of New Hampshire.
---
Copyright © 2006-2023 Zeducorp.
All rights reserved.
New Hampshire Travel & Tourism Information