The State of Arizona has a variety of museums, visitor centers, and cultural attractions in the following counties. Before visiting a museum listed on this page, be sure to check its address and hours of operation by visiting its website or contacting it. The museum may have relocated or closed, and hours of operation may be irregular. Tourist information is available at your fingertips by clicking on the Arizona county name you are interested in visiting.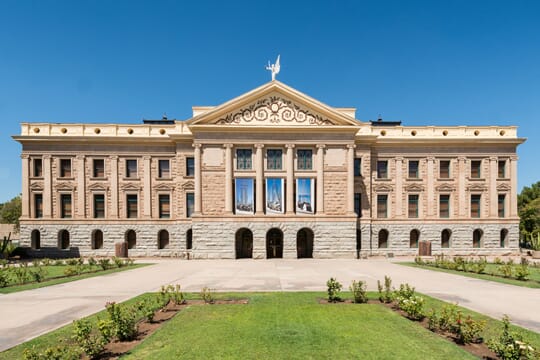 Original Arizona State Capitol, Phoenix, Arizona
Each county is suffixed by a parenthesized value, indicating the number of listings in that county.
Arizona Counties
---
Apache County
Butterfly Lodge Museum
4 County Road 1126
Greer, Arizona 85927 Map
1-928-735-7514
Cochise County
Coconino County
Gila County
Gila County Historical Museum
Globe Miami Highway
Miami, Arizona 85539 Map
1-928-425-7385
Located in the Payson area.
Graham County
Eastern Arizona Museum and Historical Society
2 North Main Street
Pima, Arizona 85543 Map
1-928-485-9400
Located in the Safford area.
Graham County Historical Society Museum
3430 West Main Street
Thatcher, Arizona 85552 Map
1-928-348-0470
Located in the Safford area.
Greenlee County
Greenlee County Historical Museum
317 Chase Creek
Clifton, Arizona 85533 Map
1-928-865-3115
Located in the Safford area.
La Paz County
Parker Area Historical
1214 South California Avenue
Parker, Arizona 85344 Map
1-928-669-8077
Parker Area Tourism
1217 South California Avenue
Parker, Arizona 85344 Map
1-928-669-6511
Maricopa County
Mohave County
Colorado River Museums
2250 Highway 68
Bullhead City, Arizona 86429 Map
1-928-754-3399
Located in the Lake Havasu City-Kingman area.
Powerhouse Visitor's Center
120 West Andy Devine Avenue
Kingman, Arizona 86401 Map
1-928-753-6106
Navajo County
Pima County
Pinal County
Santa Cruz County
Tubac Santa Cruz Visitor Center
PO Box 4632
Tubac, Arizona 85646 Map
1-520-398-0007
Located in the Nogales area.
Yavapai County
---
Related Sites
Arizona Map features road maps, topographical maps, and relief maps of Arizona.
---
Copyright © 2006-2023 Zeducorp.
All rights reserved.
Arizona Travel & Tourism Information