The State of Minnesota has a variety of museums, visitor centers, and cultural attractions in the following counties. Before visiting a museum listed on this page, be sure to check its address and hours of operation by visiting its website or contacting it. The museum may have relocated or closed, and hours of operation may be irregular. Tourist information is available at your fingertips by clicking on the Minnesota county name you are interested in visiting.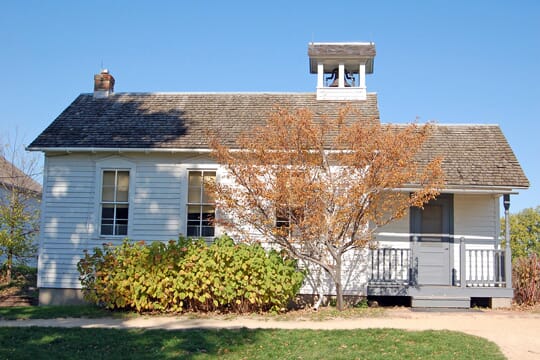 Pioneer Schoolhouse at Gibbs Museum, Saint Paul, Minnesota
Each county is suffixed by a parenthesized value, indicating the number of listings in that county.
Minnesota Counties
---
Anoka County
American Wings Air Museum
2141 Rhode Island Avenue
Minneapolis, Minnesota 55434 Map
1-763-786-4146
Fridley Historical Society Museum
611 Mississippi Street Northeast
Minneapolis, Minnesota 55432 Map
1-763-571-0120
Golden Wings Museum
8891 Airport Road Northeast Suite 6C
Minneapolis, Minnesota 55449 Map
1-763-786-5004
Becker County
Frazee Tourist Information Center
102 West Main Avenue
Frazee, Minnesota 56544 Map
1-218-334-2124
Beltrami County
Beltrami County History Center
130 Minnesota Avenue Southwest
Bemidji, Minnesota 56601 Map
1-218-444-3376
Blackduck C & C Tourist Information
72 Frontage Road Southwest
Blackduck, Minnesota 56630 Map
1-218-835-7788
Located in the Bemidji area.
Blue Earth County
Wildlife Safari Museum
54267 207th Military Road
Mankato, Minnesota 56001 Map
1-507-386-1548
Brown County
Sleepy Eye Depot Museum
100 Oak Street Northwest
Sleepy Eye, Minnesota 56085 Map
1-507-794-5053
Located in the New Ulm area.
Cass County
Winnibigoshish Historical Center
1510 US Highway 2 Northeast
Bena, Minnesota 56626 Map
1-218-665-2585
Located in the Brainerd area.
Driftwood Resort Golf Course & Museum
6020 Driftwood Lane
Pine River, Minnesota 56474 Map
1-218-568-4221
Located in the Brainerd area.
Chippewa County
Heen Farms & Museum
88583 County Road 37
Maynard, Minnesota 56260 Map
1-320-367-2896
Clay County
Clay County Museum and Archives
202 1st Avenue North
Moorhead, Minnesota 56560 Map
1-218-299-5520
Heritage Hjemkomst Interpretive Center
202 1st Avenue North
Moorhead, Minnesota 56560 Map
1-218-299-5511
Rourke Art Museum
521 Main Avenue
Moorhead, Minnesota 56560 Map
1-218-236-8861
Dakota County
Dakota City Heritage Village
4008 220th Street West
Farmington, Minnesota 55024 Map
1-651-460-8050
Located in the Minneapolis-St. Paul-Bloomington area.
Sibley House Historic Site
1357 Sibley Mem Highway
Mendota, Minnesota 55150 Map
1-651-452-1596
Located in the Minneapolis-St. Paul-Bloomington area.
Douglas County
Faribault County
Tourist Information Center
Highway 169 and 16 North
Blue Earth, Minnesota 56013 Map
1-507-526-3001
Winnebago Museum
18 1st Avenue Northeast
Winnebago, Minnesota 56098 Map
1-507-893-4660
Fillmore County
Southeastern MN Historic Bluff Country
15 2nd Street Northwest
Harmony, Minnesota 55939 Map
1-507-886-2230
Lanesboro Historical Preservation Associates
101 Parkway Avenue South
Lanesboro, Minnesota 55949 Map
1-507-467-2177
Steam Engine Museum
PO Box 56
Mabel, Minnesota 55954 Map
1-507-493-5350
Freeborn County
Story Lady Doll & Toy Museum
131 North Broadway Avenue
Albert Lea, Minnesota 56007 Map
1-507-377-1820
Goodhue County
Red Wing Pottery Museum
Pottery Place Mall
Red Wing, Minnesota 55066 Map
1-651-385-7766
Hubbard County
Hubbard County Historical Museum
3rd Street and Court
Park Rapids, Minnesota 56470 Map
1-218-732-5237
Itasca County
Children's Discovery Museum
2727 Pokegama Avenue South
Grand Rapids, Minnesota 55744 Map
1-218-326-1900
Kandiyohi County
Big Kahuna Park
190 Progress Way
Spicer, Minnesota 56288 Map
1-320-796-2445
Located in the Willmar area.
Kittson County
Kittson CO Historical Museum
332 East Main Street
Lake Bronson, Minnesota 56734 Map
1-218-754-4100
Koochiching County
Koochiching County Historical Museum
214 6th Avenue
International Falls, Minnesota 56649 Map
1-218-283-4316
Lac Qui Parle County
Lac Qui Parle County Historical Museum
Highway 75 South
Madison, Minnesota 56256 Map
1-320-598-7678
Lake County
Bay Area Information Center
1001 Main Street
Beaver Bay, Minnesota 55601 Map
1-218-226-3317
Lake County Visitor Information
1330 Highway 61
Two Harbors, Minnesota 55616 Map
1-218-834-4005
Lake of the Woods County
Le Sueur County
Lesueur Museum
709 North 2nd Street
Le Sueur, Minnesota 56058 Map
1-507-665-2050
Arts & Heritage Center
206 1st Street North
Montgomery, Minnesota 56069 Map
1-507-364-5933
Lincoln County
Lincoln County Promotion & Tourism
315 East George Street
Ivanhoe, Minnesota 56142 Map
1-507-694-1138
Lake Benton Economic & Heritage Center
108 Center Street South
Lake Benton, Minnesota 56149 Map
1-507-368-4480
McLeod County
McLeod County Heritage Center
380 School Road Southwest
Hutchinson, Minnesota 55350 Map
1-320-587-2109
Morrison County
Little Falls Convention & Visitors Bureau
606 1st Street Northeast
Little Falls, Minnesota 56345 Map
1-320-616-4959
Minnesota Fishing Museum
304 West Broadway
Little Falls, Minnesota 56345 Map
1-320-616-2011
Mower County
Hormels Historic Home
208 4th Avenue Northwest
Austin, Minnesota 55912 Map
1-507-433-4243
Mower County Historical Center
700 12th Avenue Northwest
Austin, Minnesota 55912 Map
1-507-437-6082
Norman County
Twin Valley Heritage & Art Foundation
104 1st Street
Twin Valley, Minnesota 56584 Map
1-218-584-5658
Olmsted County
Heritage House
225 1st Avenue Northwest
Rochester, Minnesota 55901 Map
1-507-286-9208
History Center of Olmsted County
1195 West Circle Drive Southwest
Rochester, Minnesota 55902 Map
1-507-282-9447
Otter Tail County
Pine County
Hinckley Fire Museum
106 Old Highway 61 South
Hinckley, Minnesota 55037 Map
1-320-384-7338
National Park Service Maintenance Shop
15975 State Highway 70
Pine City, Minnesota 55063 Map
1-320-629-7450
Pipestone County
Pipestone County Museum
113 South Hiawatha Avenue
Pipestone, Minnesota 56164 Map
1-507-825-2563
Polk County
Heritage Village Foundation
219 20th Street Northeast
East Grand Forks, Minnesota 56721 Map
1-218-773-3952
Located in the Grand Forks area.
East Polk Heritage Center
910 Hilligoss Boulevard Southeast
Fosston, Minnesota 56542 Map
1-218-435-6136
Located in the Grand Forks area.
Pope County
Pope County Museum & Historical Society
809 South State Highway 104
Glenwood, Minnesota 56334 Map
1-320-634-3293
Ramsey County
Redwood County
Redwood County Museum
913 West Bridge Street
Redwood Falls, Minnesota 56283 Map
1-507-641-3329
Laura Ingalls Wilder Museum
330 8th Street
Walnut Grove, Minnesota 56180 Map
1-507-859-2358
Renville County
Renville County Historical Society Museum
441 North Park Drive
Morton, Minnesota 56270 Map
1-507-697-6147
Rice County
Rice County Historical Society Museum
1814 2nd Avenue Northwest
Faribault, Minnesota 55021 Map
1-507-332-2121
Rock County
Hinkly House Museum
217 North Freeman Avenue
Luverne, Minnesota 56156 Map
1-507-449-2115
Saint Louis County
Stearns County
Pineview Park BMX
6655 Saukview Drive
Saint Cloud, Minnesota 56303 Map
1-320-230-7820
Stevens County
Stevens County Historical Museum
116 West 6th Street
Morris, Minnesota 56267 Map
1-320-589-1719
Wabasha County
Plainwiew Area History Center
40 4th Street Southwest
Plainview, Minnesota 55964 Map
1-507-534-4173
Located in the Rochester area.
Wadena County
Menahga Area Historical Society & Museum
320 Helsinki Boulevard Northeast
Menahga, Minnesota 56464 Map
1-218-564-5063
Washington County
Washington County Historical Society Museum
602 Main Street North
Stillwater, Minnesota 55082 Map
1-651-439-5956
Located in the Minneapolis-St. Paul-Bloomington area.
Watonwan County
Watonwan County Historical Center
423 Dill Avenue Southwest
Madelia, Minnesota 56062 Map
1-507-642-3247
Wilkin County
Wilkin County Historical Museum
704 Nebraska Avenue
Breckenridge, Minnesota 56520 Map
1-218-643-1303
Wright County
Minnesota Pioneer Park
725 Pioneer Park Trail
Annandale, Minnesota 55302 Map
1-320-274-8489
Located in the Minneapolis-St. Paul-Bloomington area.
Cokato Museum
175 4th Street
Cokato, Minnesota 55321 Map
1-320-286-2427
Located in the Minneapolis-St. Paul-Bloomington area.
Yellow Medicine County
Yellow Medicine County Historical Society Museum
98 Highway 67 East
Granite Falls, Minnesota 56241 Map
1-320-564-4479
---
Related Sites
Minnesota Map features road maps, topographical maps, and relief maps of Minnesota.
---
Copyright © 2006-2023 Zeducorp.
All rights reserved.
Minnesota Travel & Tourism Information