The State of Idaho has a variety of museums, visitor centers, and cultural attractions in the following counties. Before visiting a museum listed on this page, be sure to check its address and hours of operation by visiting its website or contacting it. The museum may have relocated or closed, and hours of operation may be irregular. Tourist information is available at your fingertips by clicking on the Idaho county name you are interested in visiting.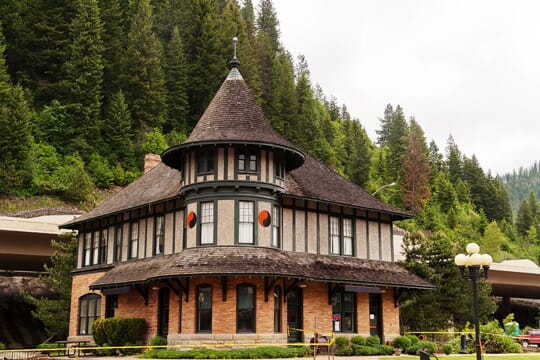 Historic Railroad Depot, Wallace, Idaho
Each county is suffixed by a parenthesized value, indicating the number of listings in that county.
Idaho Counties
---
Ada County
Bannock County
Museum South Bannock County Historical Center
110 East Main Street
Lava Hot Springs, Idaho 83246 Map
1-208-776-5254
Located in the Pocatello area.
Greater Pocatello Information & Visitors Center
2695 South 5th Avenue
Pocatello, Idaho 83204 Map
1-208-234-4636
Idaho Museum of Natural History
5th Avenue and Dillon
Pocatello, Idaho 83201 Map
1-208-282-3317
Bear Lake County
Bear Lake Family History Center
661 Washington Street
Montpelier, Idaho 83254 Map
1-208-847-0340
Boise County
Idaho City Historical Museum
503 Montgomery Street
Idaho City, Idaho 83631 Map
1-208-392-4550
Located in the Boise City-Nampa area.
Bonner County
Priest Lake Museum
4777 West Lakeshore Road
Priest Lake, Idaho 83856 Map
1-208-443-2676
Bonner County Historical Society & Museum
611 South Ella Avenue
Sandpoint, Idaho 83864 Map
1-208-263-2344
Bonneville County
Collectors Corner Museum
900 John Adams Parkway
Idaho Falls, Idaho 83401 Map
1-208-528-9900
The Art Museum of Eastern Idaho
300 South Capital Avenue
Idaho Falls, Idaho 83402 Map
1-208-524-7777
Museum of Idaho
200 North Eastern Avenue
Idaho Falls, Idaho 83402 Map
1-208-522-1400
Boundary County
Boundary County Historical Society & Museum
7229 Main Street
Bonners Ferry, Idaho 83805 Map
1-208-267-7720
Canyon County
Our Memories Museum
1122 Main Street
Caldwell, Idaho 83605 Map
1-208-459-1413
Located in the Boise City-Nampa area.
Warhawk Air Museum
201 Municipal Drive
Nampa, Idaho 83687 Map
1-208-465-6446
Cassia County
Albion Museum
411 West North Street
Albion, Idaho 83311 Map
1-208-673-6288
Located in the Burley area.
Cassia County Historical Society & Museum
East Main and Highland Avenue
Burley, Idaho 83318 Map
1-208-678-7172
Clearwater County
Clearwater Historical Museum
315 College Avenue
Orofino, Idaho 83544 Map
1-208-476-5033
Weippe Hilltop Heritage Museum
617 North Main
Weippe, Idaho 83553 Map
1-208-435-4200
Custer County
Stanley Museum
Highway 75
Stanley, Idaho 83278 Map
1-208-774-3517
Elmore County
Elmore County Historical Museum
180 South 3rd East
Mountain Home, Idaho 83647 Map
1-208-587-6847
Fremont County
Ashton Visitor's Center
828 Highway 20
Ashton, Idaho 83420 Map
1-208-652-7520
Located in the Rexburg area.
St Anthony Chamber of Commerce Visitor Center
420 North Bridge Street
Saint Anthony, Idaho 83445 Map
1-208-624-4870
Located in the Rexburg area.
Gem County
Gem County Museum
501 East 1st Street
Emmett, Idaho 83617 Map
1-208-365-9530
Located in the Boise City-Nampa area.
Jefferson County
Jefferson County Historical Society Museum
118 West 1st South
Rigby, Idaho 83442 Map
1-208-745-8423
Located in the Idaho Falls area.
Oneida County
Oneida Pioneer Museum
27 Bannock Street
Malad City, Idaho 83252 Map
1-208-766-9247
Shoshone County
Northern Pacific Depot Railroad Museum
219 6th Street
Wallace, Idaho 83873 Map
1-208-752-0111
Oasis Bordello Museum
605 Cedar Street
Wallace, Idaho 83873 Map
1-208-753-0801
Wallace District Mining Museum
509 Bank Street
Wallace, Idaho 83873 Map
1-208-556-1592
Teton County
Driggs Latter Day Saints Family History
221 North 1st East
Driggs, Idaho 83422 Map
1-208-354-2231
Located in the Jackson area.
Teton Valley Historical Museum
137 North Highway 33
Driggs, Idaho 83422 Map
1-208-354-6000
Located in the Jackson area.
Twin Falls County
Tfchs Museum
21337 Highway 30
Filer, Idaho 83328 Map
1-208-736-4675
Located in the Twin Falls area.
Valley County
Valley County Museum
13131 Farm To Market Road
Donnelly, Idaho 83615 Map
1-208-325-8628
Central Idaho Historical Museum Visitors Center
1001 State Street
Mccall, Idaho 83638 Map
1-208-634-4497
Washington County
Snake River Heritage Center
2295 Paddock Avenue
Weiser, Idaho 83672 Map
1-208-549-0205
---
Related Sites
Idaho Map features road maps, topographical maps, and relief maps of Idaho.
---
Copyright © 2006-2023 Zeducorp.
All rights reserved.
Idaho Travel & Tourism Information