The State of New Mexico has a variety of museums, visitor centers, and cultural attractions in the following counties. Before visiting a museum listed on this page, be sure to check its address and hours of operation by visiting its website or contacting it. The museum may have relocated or closed, and hours of operation may be irregular. Tourist information is available at your fingertips by clicking on the New Mexico county name you are interested in visiting.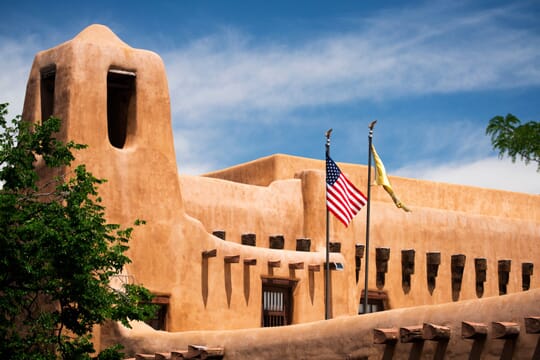 New Mexico Museum of Art, Santa Fe, New Mexico
Each county is suffixed by a parenthesized value, indicating the number of listings in that county.
New Mexico Counties
---
Bernalillo County
Chaves County
Colfax County
Raton Museum
216 South 1st Street
Raton, New Mexico 87740 Map
1-505-445-8979
Santa Fe Trail Museum
516 Maxwell
Springer, New Mexico 87747 Map
1-505-483-5554
De Baca County
Dona Ana County
Institute of Historical Survey
3035 South Main Street
Las Cruces, New Mexico 88005 Map
1-505-525-3035
Grant County
Log Cabin Curio Shop & Museum
33 Main
Pinos Altos, New Mexico 88053 Map
1-505-388-1882
Located in the Silver City area.
Silver City Museum
312 West Broadway Street
Silver City, New Mexico 88061 Map
1-505-538-5921
Guadalupe County
Route 66 Auto Museum
2866 Will Rogers Drive
Santa Rosa, New Mexico 88435 Map
1-505-472-1966
Lincoln County
Carrizozo Heritage Museum
103 12th Street
Carrizozo, New Mexico 88301 Map
1-505-648-1105
Located in the Ruidoso area.
Los Alamos County
Otero County
Quay County
Mesalands Dinosaur Museum
222 East Laughlin Avenue
Tucumcari, New Mexico 88401 Map
1-505-461-3466
Rio Arriba County
Onate Monument & Visitor's Center
State Road 68
Alcalde, New Mexico 87511 Map
1-505-852-4639
Located in the Espanola area.
The Chimayo Museum
13 De Cero Plaza
Chimayo, New Mexico 87522 Map
1-505-351-0945
Located in the Espanola area.
San Juan County
Aztec Museum
125 N Main Avenue
Aztec, New Mexico 87410 Map
1-505-334-9829
Located in the Farmington area.
Salmon Ruins Museum
6131 Highway 64
Bloomfield, New Mexico 87413 Map
1-505-632-2013
Located in the Farmington area.
Farmington Museum
3041 East Main Street
Farmington, New Mexico 87402 Map
1-505-599-1174
San Miguel County
Citizens Committee for Historic Preservation
127 Bridge Street
Las Vegas, New Mexico 87701 Map
1-505-425-8803
Sandoval County
Legends of New Mexico Museum
601 West Frontage Road
Algodones, New Mexico 87001 Map
1-505-867-8600
Located in the Albuquerque area.
Jemez Pueblo Walatowa Visitor Center
7413 Highway 4
Jemez Pueblo, New Mexico 87024 Map
1-505-834-7235
Located in the Albuquerque area.
J & R Vintage Auto Museum
3650 State Highway 528 Northeast
Rio Rancho, New Mexico 87144 Map
1-505-867-2881
Located in the Albuquerque area.
Santa Fe County
Taos County
Torrance County
City of Moriarty Museum and Visitors Center
201 Broadway
Moriarty, New Mexico 87035 Map
1-505-832-0839
Located in the Albuquerque area.
Union County
Valencia County
Harvey House Museum
104 North 1st Street
Belen, New Mexico 87002 Map
1-505-861-0581
Located in the Albuquerque area.
---
Related Sites
New Mexico Map features road maps, topographical maps, and relief maps of New Mexico.
---
Copyright © 2006-2023 Zeducorp.
All rights reserved.
New Mexico Travel & Tourism Information