The State of Mississippi has a variety of museums, visitor centers, and cultural attractions in the following counties. Before visiting a museum listed on this page, be sure to check its address and hours of operation by visiting its website or contacting it. The museum may have relocated or closed, and hours of operation may be irregular. Tourist information is available at your fingertips by clicking on the Mississippi county name you are interested in visiting.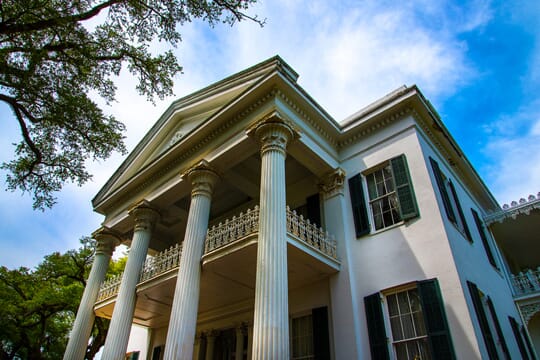 Stately Antebellum House, Natchez, Mississippi
Each county is suffixed by a parenthesized value, indicating the number of listings in that county.
Mississippi Counties
---
Adams County
Jefferson College Historic Site
Highway 61 North
Natchez, Mississippi 39120 Map
1-601-442-2901
Alcorn County
Black History Museum of Corinth
1109 Meigg Street
Corinth, Mississippi 38834 Map
1-662-665-8500
Corinth Area Tourism Promotion Council
602 East Waldron Street
Corinth, Mississippi 38834 Map
1-662-287-8300
Northeast Mississippi Museum Association
204 East 4th Street
Corinth, Mississippi 38834 Map
1-662-287-3120
Coahoma County
Delta Blues Museum
1 Blues Alley Lane
Clarksdale, Mississippi 38614 Map
1-662-627-7263
DeSoto County
Hancock County
Alice Moseley Folk Art and Antique Museum
214 Bookter Street
Bay Saint Louis, Mississippi 39520 Map
1-228-467-9223
Located in the Gulfport-Biloxi area.
Harrison County
Seafood Industry Museum
Point Cadet Plaza
Biloxi, Mississippi 39530 Map
1-228-435-6320
Mississippi Beach Convention and Visitors Bureau
942 Beach Drive
Gulfport, Mississippi 39507 Map
1-228-896-6699
Mississippi Division of Tourism Gulfcoast Office
1410 24th Avenue
Gulfport, Mississippi 39501 Map
1-228-214-4493
Hinds County
Humphreys County
Mohamed Ethel Wright Stitchery Museum
307 Central Street
Belzoni, Mississippi 39038 Map
1-662-247-1433
Jackson County
Walter Anderson Museum of Art
510 Washington Avenue
Ocean Springs, Mississippi 39564 Map
1-228-872-3164
Located in the Pascagoula area.
Old Spanish Fort Museum
4602 Fort Street
Pascagoula, Mississippi 39567 Map
1-228-769-1505
Lauderdale County
Lauderdale County Tourism Commission
2118 Front Street
Meridian, Mississippi 39301 Map
1-601-482-8001
Meridian Museum of Art
628 25th Avenue
Meridian, Mississippi 39301 Map
1-601-693-1501
Lawrence County
Lawrence County Civic Center & History Museum
125 East Broad Street
Monticello, Mississippi 39654 Map
1-601-587-4422
Lee County
Tupelo Automobile Museum
1 Otis Drive
Tupelo, Mississippi 38804 Map
1-662-842-4242
Tupelo Buffalo Park
2272 North Coley Road
Tupelo, Mississippi 38801 Map
1-662-844-8709
Leflore County
Lincoln County
Military Memorial Museum
125 South Whitworth Avenue
Brookhaven, Mississippi 39601 Map
1-601-833-0073
Lowndes County
Madison County
Marshall County
Marshall County Historical Museum
111 East Van Dorn Avenue
Holly Springs, Mississippi 38635 Map
1-662-252-3669
Located in the Memphis area.
Monroe County
Aberdeen Visitors Bureau
124 West Commerce Street
Aberdeen, Mississippi 39730 Map
1-662-369-9440
Sunflower County
BB King Museum Foundation
101 South Sunflower Avenue
Indianola, Mississippi 38751 Map
1-662-887-9455
Tishomingo County
Tishomingo County Tourism
1001 Battleground Drive
Iuka, Mississippi 38852 Map
1-662-423-0051
Tunica County
Tunica Museums
4063 US Highway 61 North
Tunica, Mississippi 38676 Map
1-662-363-6631
Located in the Memphis area.
Warren County
The Vicksburg Battlefield Museum
4139 South Frontage Road
Vicksburg, Mississippi 39180 Map
1-601-638-6500
Vicksburg Convention and Visitors Bureau
PO Box 110
Vicksburg, Mississippi 39180 Map
1-601-636-9421
Yesterday's Children Antique Doll & Toy Museum
1104 Washington Street
Vicksburg, Mississippi 39183 Map
1-601-638-0650
Washington County
Washington County Convention & Visitors Bureau
410 Washington Avenue
Greenville, Mississippi 38701 Map
1-662-334-2711
Wilkinson County
Wilkinson County Museum
Bank Street
Woodville, Mississippi 39669 Map
1-601-888-3998
Yazoo County
---
Related Sites
Mississippi Map features road maps, topographical maps, and relief maps of Mississippi.
---
Copyright © 2006-2023 Zeducorp.
All rights reserved.
Mississippi Travel & Tourism Information