The State of Nevada has a variety of museums, visitor centers, and cultural attractions in the following counties. Before visiting a museum listed on this page, be sure to check its address and hours of operation by visiting its website or contacting it. The museum may have relocated or closed, and hours of operation may be irregular. Tourist information is available at your fingertips by clicking on the Nevada county name you are interested in visiting.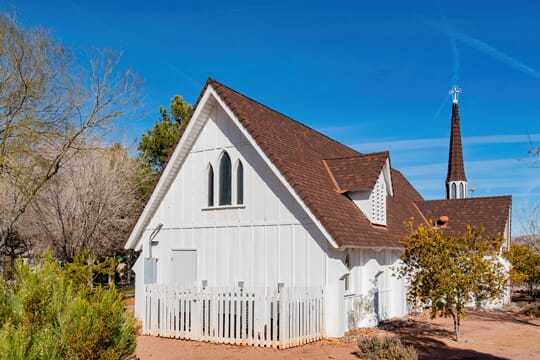 Candlelight Wedding Chapel, Las Vegas, Nevada
Each county is suffixed by a parenthesized value, indicating the number of listings in that county.
Nevada Counties
---
Clark County
Northeastern Nevada Museum
1515 Idaho Street
Elko, Nevada 89032 Map
1-775-738-3418
Located in the Las Vegas-Paradise area.
Hawthorne Ordnance Museum
901 E Street
Hawthorne, Nevada 89012 Map
1-775-945-5400
Located in the Las Vegas-Paradise area.
National Park Service River & Trails Program
4747 Vegas Drive
Las Vegas, Nevada 89108 Map
1-702-648-8884
Douglas County
Genoa Courthouse Museum
2304 Main
Genoa, Nevada 89411 Map
1-775-782-4325
Located in the Gardnerville Ranchos area.
Lander County
Gridley Store Museum
247 Main
Austin, Nevada 89310 Map
1-775-964-1202
Nye County
Beatty Museum Historical Society
417 West Main
Beatty, Nevada 89003 Map
1-775-553-2303
Located in the Pahrump area.
Washoe County
Comstock Wild Horse & Mining Museum
131 South Centre
Reno, Nevada 89511 Map
1-775-847-9453
White Pine County
Nevada Northern Railway Museum
1100 Avenue A
Ely, Nevada 89301 Map
1-775-289-2085
White Pine Public Museum Inc
2000 Aultman Street
Ely, Nevada 89301 Map
1-775-289-4710
McGill Historical Drug Store Museum
11 4th Street
Mc Gill, Nevada 89318 Map
1-775-235-7276
---
Related Sites
Nevada Map features road maps, topographical maps, and relief maps of Nevada.
---
Copyright © 2006-2023 Zeducorp.
All rights reserved.
Nevada Travel & Tourism Information