The State of Iowa has a variety of museums, visitor centers, and cultural attractions in the following counties. Before visiting a museum listed on this page, be sure to check its address and hours of operation by visiting its website or contacting it. The museum may have relocated or closed, and hours of operation may be irregular. Tourist information is available at your fingertips by clicking on the Iowa county name you are interested in visiting.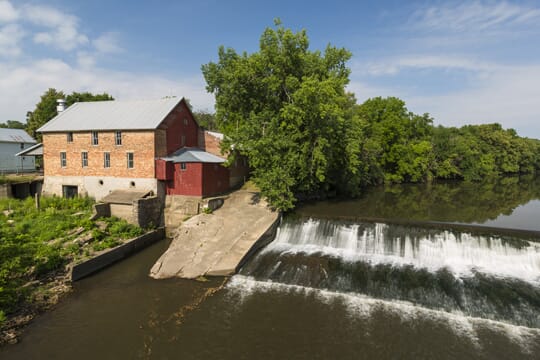 Lidtke Grist Mill, Lime Springs, Iowa
Each county is suffixed by a parenthesized value, indicating the number of listings in that county.
Iowa Counties
---
Adair County
Adair County Historical Society Museum
Highway 92 West
Greenfield, Iowa 50849 Map
1-641-743-2232
Iowa Aviation Museum
2251 Airport Road
Greenfield, Iowa 50849 Map
1-641-343-7184
Appanoose County
Appanoose Historical Museum
100 West Maple Street
Centerville, Iowa 52544 Map
1-641-856-8040
Black Hawk County
Boone County
Boone County Historical Center
602 Story Street
Boone, Iowa 50036 Map
1-515-432-1907
Buchanan County
Buena Vista County
Historical Museum Buena Vista County
214 West 5th Street
Storm Lake, Iowa 50588 Map
1-712-732-4955
Calhoun County
Calhoun County Museum
150 High Street
Rockwell City, Iowa 50579 Map
1-712-297-8139
Carroll County
Carroll County Historical Museum
123 East 6th Street
Carroll, Iowa 51401 Map
1-712-792-1582
Cerro Gordo County
Macnider Art Museum
303 2nd Street Southwest
Mason City, Iowa 50401 Map
1-641-421-3666
Mason City Convention & Visitors Bureau
25 West State Street
Mason City, Iowa 50401 Map
1-641-422-1663
Cherokee County
Sanford Museum & Planetarium
117 East Willow Street
Cherokee, Iowa 51012 Map
1-712-225-3922
Clayton County
Wilder Memorial Museum
123 West Mission
Strawberry Point, Iowa 52076 Map
1-563-933-4615
Clinton County
Camanche Historical Museum
1307 South Washington Boulevard
Camanche, Iowa 52730 Map
1-563-259-2875
Located in the Clinton area.
Clinton County Historical Society Museum
601 South 1st Street
Clinton, Iowa 52732 Map
1-563-242-1201
Davis County
Davis County Tourism & Craft Center
301 North Washington Street
Bloomfield, Iowa 52537 Map
1-641-664-1104
Decatur County
Liberty Hall Historic Center
1138 West Main Street
Lamoni, Iowa 50140 Map
1-641-784-6133
Delaware County
Stagecoach Inn Museum
1363 Candle Road
Manchester, Iowa 52057 Map
1-563-927-3639
Dickinson County
Dubuque County
Emmet County
Emmet County Historical Society Museum
1720 3rd Avenue South
Estherville, Iowa 51334 Map
1-712-362-2750
Fayette County
Fayette County Historical & Genealogical Center
100 North Walnut Street
West Union, Iowa 52175 Map
1-563-422-5797
Floyd County
Franklin County
Beeds Lake State Park Officer
1422 165th Street
Hampton, Iowa 50441 Map
1-641-456-2047
Guthrie County
Casey Museum
604 Antique Country Drive
Casey, Iowa 50048 Map
1-641-746-2869
Located in the Des Moines-West Des Moines area.
Guthrie County Historical Village
206 West South Street
Panora, Iowa 50216 Map
1-641-755-2989
Located in the Des Moines-West Des Moines area.
Hamilton County
Hancock County
Hobo Museum
51 Main Avenue South
Britt, Iowa 50423 Map
1-641-843-9104
Hardin County
Hardin County Historical Farm Museum
203 Washington Street
Eldora, Iowa 50627 Map
1-641-939-7107
Harrison County
Henry County
Swedish Heritage Museum
107 Freeport Avenue
Swedesburg, Iowa 52652 Map
1-319-254-2317
Humboldt County
Humboldt County Museum
905 1st Avenue North
Dakota City, Iowa 50529 Map
1-515-332-5280
Ida County
Battle Hill Museum of Natural History
231 Ida Street
Battle Creek, Iowa 51006 Map
1-712-365-4414
Iowa County
Jackson County
Bellevue Tourist Information Center
210 North Riverview Drive
Bellevue, Iowa 52031 Map
1-563-872-5830
Johnson County
Jones County
Lee County
Linn County
Cedar Rapids Area Convention & Visitors Bureau
119 1st Avenue Southeast
Cedar Rapids, Iowa 52401 Map
1-319-398-5009
Cedar Rapids Museum of Art
410 3rd Avenue Southeast
Cedar Rapids, Iowa 52401 Map
1-319-366-7503
Marion Heritage Center
590 10th Street
Marion, Iowa 52302 Map
1-319-447-6376
Located in the Cedar Rapids area.
Lucas County
John L Lewis Mining & Labor Museum
102 Division Street
Lucas, Iowa 50151 Map
1-641-766-6831
Madison County
St Charles Tourist Center
106 East Main Street
Saint Charles, Iowa 50240 Map
1-641-396-2506
Located in the Des Moines-West Des Moines area.
Marion County
Marshall County
Sower Historical Homestead
201 West State Street
Marshalltown, Iowa 50158 Map
1-641-752-8459
Mills County
Indian Creek Historical Society & Museum
59256 380th
Emerson, Iowa 51533 Map
1-712-824-7730
Located in the Council Bluffs area.
Mills County Museum
Glenwood Lake Park
Glenwood, Iowa 51534 Map
1-712-527-5038
Located in the Council Bluffs area.
Mitchell County
St Ansgar Heritage Association Museum
126 West 4th Street
Saint Ansgar, Iowa 50472 Map
1-641-713-2776
Monroe County
Monroe County Historical Society Museum
114 A Avenue West
Albia, Iowa 52531 Map
1-641-932-7046
Montgomery County
Olson Linn Museum
323 East 4th Street
Villisca, Iowa 50864 Map
1-712-826-2756
Page County
Nodaway Valley Historical Museum
1600 North 16th Street
Clarinda, Iowa 51632 Map
1-712-542-3073
Shenandoah Historical Museum
800 West Sheridan Avenue
Shenandoah, Iowa 51601 Map
1-712-246-1669
Plymouth County
Plymouth County Historical Museum
335 1st Avenue Northwest
Le Mars, Iowa 51031 Map
1-712-546-7002
Polk County
Pottawattamie County
Ringgold County
Ringgold County Development & Tourism
117 South Fillmore Street
Mount Ayr, Iowa 50854 Map
1-641-464-3704
Scott County
IMAX Theater Putnam Museum
1717 West 12th Street
Davenport, Iowa 52804 Map
1-563-324-1933
International Fire Museum
2301 East 11th Street
Davenport, Iowa 52803 Map
1-563-323-7726
River Music Experience Museum
131 West 2nd Street
Davenport, Iowa 52801 Map
1-563-326-1333
Shelby County
Shelby County Museum
1805 Morse Avenue
Harlan, Iowa 51537 Map
1-712-755-2437
Story County
Blacks Heritage Farm
26156 530th Avenue
Ames, Iowa 50010 Map
1-515-292-1936
Brunnier Art Museum
Scheman Building
Ames, Iowa 50010 Map
1-515-294-3342
Tama County
Traer Historical Museum
514 2nd Street
Traer, Iowa 50675 Map
1-319-478-2346
Taylor County
Taylor County Historical Museum
1001 Pollock Boulevard
Bedford, Iowa 50833 Map
1-712-523-2041
Union County
Union County Tourism
208 West Taylor Street
Creston, Iowa 50801 Map
1-641-782-4405
Wapello County
Air Power Museum
22001 Bluegrass Road
Ottumwa, Iowa 52501 Map
1-641-938-2592
Wapello County Historical Museum Amtrak Depot
210 West Main Street
Ottumwa, Iowa 52501 Map
1-641-682-8676
Warren County
National Balloon Museum
1601 North Jefferson Way
Indianola, Iowa 50125 Map
1-515-961-3714
Located in the Des Moines-West Des Moines area.
Washington County
Wayne County
Webster County
Blanden Memorial Art Museum
920 3rd Avenue North
Fort Dodge, Iowa 50501 Map
1-515-573-2316
Fort Dodge Historical Foundation & Trading Post
Museum Road
Fort Dodge, Iowa 50501 Map
1-515-573-4231
Lehigh Historical Museum
145 Main Street
Lehigh, Iowa 50557 Map
1-515-359-2139
Located in the Fort Dodge area.
Winnebago County
Mansion Museum Winnebago Historical Society
336 North Clark Street
Forest City, Iowa 50436 Map
1-641-585-5606
Winneshiek County
Bily Clock Museum
PO Box 258
Calmar, Iowa 52132 Map
1-563-562-3569
Laura Ingalls Wilder Park and Museum
3603 236th Avenue
Decorah, Iowa 52101 Map
1-563-735-5916
Porter House Museum
401 West Broadway Street
Decorah, Iowa 52101 Map
1-563-382-8465
Woodbury County
Sergeant Floyd River Museum and Welcome Center
1000 Larsen Park Road
Sioux City, Iowa 51103 Map
1-712-279-0198
Sioux City Public Museum
2901 Jackson Street
Sioux City, Iowa 51104 Map
1-712-279-6174
Wright County
Heartland Museum
119 9th Street Southwest
Clarion, Iowa 50525 Map
1-515-602-6000
---
Related Sites
Iowa Map features road maps, topographical maps, and relief maps of Iowa.
---
Copyright © 2006-2023 Zeducorp.
All rights reserved.
Iowa Travel & Tourism Information