The State of California has a variety of museums, visitor centers, and cultural attractions in the following counties. Before visiting a museum listed on this page, be sure to check its address and hours of operation by visiting its website or contacting it. The museum may have relocated or closed, and hours of operation may be irregular. Tourist information is available at your fingertips by clicking on the California county name you are interested in visiting.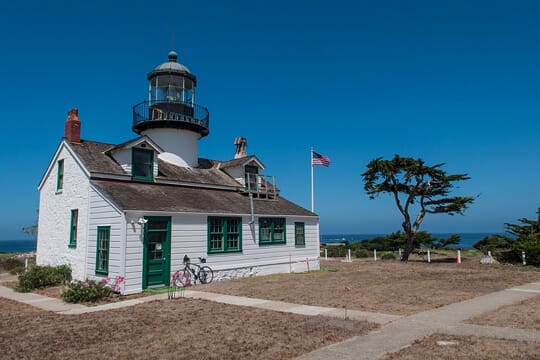 Point Pinos Historic Lighthouse, Monterey, California
Each county is suffixed by a parenthesized value, indicating the number of listings in that county.
California Counties
---
Alpine County
Alpine County Museum
School Street
Markleeville, California 96120 Map
1-530-694-2317
Amador County
Amador Whitney Museum
14170 State Highway 49
Amador City, California 95601 Map
1-209-267-0928
Monteverde General Store Museum
11 Randolph
Sutter Creek, California 95685 Map
1-209-267-1431
Butte County
Calaveras County
Calaveras Visitors Bureau
1192 South Main
Angels Camp, California 95222 Map
1-209-736-0049
Mokelumne Hill History Society Inc
8328 Main Street
Mokelumne Hill, California 95245 Map
1-209-286-1770
Colusa County
Sacramento Valley Museum
1495 E Street
Williams, California 95987 Map
1-530-473-2978
El Dorado County
Glenn County
Alta Schmidt House Museum
936 4th Street
Orland, California 95963 Map
1-530-865-5444
Willows Museum
336 West Walnut Street
Willows, California 95988 Map
1-530-934-5644
Imperial County
Inyo County
Eastern California Museum
155 North Grant
Independence, California 93526 Map
1-760-878-0258
Located in the Bishop area.
Kings County
Adventure Park
1495 Glendale Avenue
Hanford, California 93230 Map
1-559-582-6000
Hanford Carnegie Museum Inc
109 East 8th Street
Hanford, California 93230 Map
1-559-584-1367
Mooney Sarah A Memorial Museum
542 West D Street
Lemoore, California 93245 Map
1-559-925-0321
Located in the Hanford-Corcoran area.
Lake County
State Parks and Recreation Department
5300 Soda Bay Road
Kelseyville, California 95451 Map
1-707-279-2267
Located in the Clearlake area.
Lake County Museum
255 North Main Street
Lakeport, California 95453 Map
1-707-263-4555
Located in the Clearlake area.
Calpine Geothermal Visitor Center
15500 Central Park Road
Middletown, California 95461 Map
1-707-987-4270
Located in the Clearlake area.
Mariposa County
Mariposa Museum & History Center Inc
5119 Jessie Street
Mariposa, California 95338 Map
1-209-966-2924
Mendocino County
Merced County
Central California Historical Military Museum
2 Museum
Dos Palos, California 93620 Map
1-209-392-8264
Located in the Merced area.
Gustine Museum
397 4th Street
Gustine, California 95322 Map
1-209-854-2344
Located in the Merced area.
Milliken Museum
905 Pacheco Boulevard
Los Banos, California 93635 Map
1-209-826-5505
Located in the Merced area.
Mono County
Mammoth Museum and Historical Preserve
5489 Sherwn Creek Road
Mammoth Lakes, California 93546 Map
1-760-934-6918
Mammoth Ski Museum
100 College Parkway
Mammoth Lakes, California 93546 Map
1-760-934-6592
Nevada County
Grass Valley Museum
410 South Church Street
Grass Valley, California 95945 Map
1-530-273-5509
Placer County
Plumas County
Portola Railroad Museum
PO Box 608
Portola, California 96122 Map
1-530-832-4131
Westwood Museum
311 Ash Street
Westwood, California 96137 Map
1-530-256-2233
Sierra County
Underground Gold Miners Museum
356 Main Street
Alleghany, California 95910 Map
1-530-287-3330
Solano County
Western Railway Museum
Highway 12
Rio Vista, California 94571 Map
1-707-374-2978
Located in the Vallejo-Fairfield area.
Vacaville Museum
213 Buck Avenue
Vacaville, California 95688 Map
1-707-447-4513
Located in the Vallejo-Fairfield area.
Museum Book Shop
734 Marin Street
Vallejo, California 94590 Map
1-707-643-0077
Stanislaus County
Tehama County
Kelly Griggs House Museum
311 Washington Street
Red Bluff, California 96080 Map
1-530-527-1129
Tehama County Museum
3D Centre
Tehama, California 96090 Map
1-530-384-2595
Located in the Red Bluff area.
Tulare County
Tuolumne County
Groveland Yosemite Gateway Museum
18990 State Highway 120
Groveland, California 95321 Map
1-209-962-0300
Located in the Phoenix Lake-Cedar Ridge area.
Friends Outside the Mother Lode Visitor Center
5100 Obyrnes Ferry Road
Jamestown, California 95327 Map
1-209-984-5523
Located in the Phoenix Lake-Cedar Ridge area.
Tuolumne City Memorial Museum
18663 Carter Street
Tuolumne, California 95379 Map
1-209-928-3516
Located in the Phoenix Lake-Cedar Ridge area.
Yolo County
Hattie Weber Museum of Davis
445 Centre Street
Davis, California 95616 Map
1-530-758-5637
Located in the Sacramento-Roseville-Woodland area.
Hays Antique Truck Museum
1962 Hays Lane
Woodland, California 95776 Map
1-530-666-1044
Heidrick AG History Center
1962 Hays Lane
Woodland, California 95776 Map
1-530-666-9700
Yuba County
Mary Aaron Memorial Museum
704 D Street
Marysville, California 95901 Map
1-530-743-1004
Located in the Yuba City area.
---
Related Sites
California Map features road maps, topographical maps, and relief maps of California.
---
Copyright © 2006-2023 Zeducorp.
All rights reserved.
California Travel & Tourism Information