The State of Tennessee has a variety of museums, visitor centers, and cultural attractions in the following counties. Before visiting a museum listed on this page, be sure to check its address and hours of operation by visiting its website or contacting it. The museum may have relocated or closed, and hours of operation may be irregular. Tourist information is available at your fingertips by clicking on the Tennessee county name you are interested in visiting.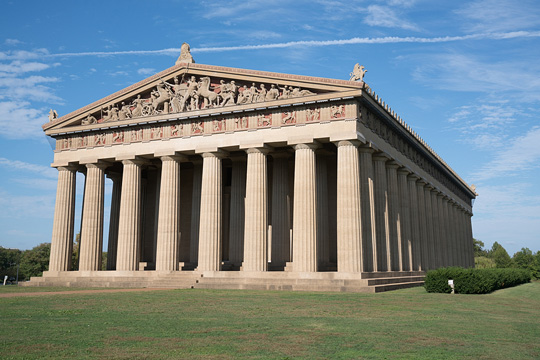 The Parthenon, Nashville, Tennessee
Each county is suffixed by a parenthesized value, indicating the number of listings in that county.
Tennessee Counties
---
Anderson County
Blount County
Bradley County
Carroll County
Huntingdon Historical Museum
19699 East Main Street
Huntingdon, Tennessee 38344 Map
1-731-986-3126
Browning Gordon Museum
640 Main Street North
Mc Kenzie, Tennessee 38201 Map
1-731-352-3510
Carter County
Sycamore Shoals State Historic Area
1651 West Elk Avenue
Elizabethton, Tennessee 37643 Map
1-423-543-5808
Located in the Johnson City area.
Clay County
Clay County Museum of History
805 Brown Street
Celina, Tennessee 38551 Map
1-931-243-4220
Coffee County
Arrowheads Aerospace Museums
Hillsboro Highway
Manchester, Tennessee 37355 Map
1-931-723-1323
Located in the Tullahoma area.
Staggerwing Museum
570 Old Shelbyville Highway
Tullahoma, Tennessee 37388 Map
1-931-455-1974
Cumberland County
Pioneer Hall Museum
East Main
Pleasant Hill, Tennessee 38578 Map
1-931-277-5313
Located in the Crossville area.
Davidson County
Franklin County
Cowan Railroad Museum
108 Front Street South
Cowan, Tennessee 37318 Map
1-931-967-3078
Located in the Tullahoma area.
Jail Museum
400 Dinah Shore Boulevard
Winchester, Tennessee 37398 Map
1-931-967-0524
Located in the Tullahoma area.
Gibson County
Strawberry Museum
1200 East Main Street
Humboldt, Tennessee 38343 Map
1-731-784-7770
West Tennessee Agricultural Museum
3 Ledbetter Gate Road
Milan, Tennessee 38358 Map
1-731-686-8067
Located in the Humboldt area.
David Crockett Cabin Historical
219 North Trenton Street
Rutherford, Tennessee 38369 Map
1-731-665-6195
Located in the Humboldt area.
Greene County
Doak House Museum
690 Erwin Highway
Greeneville, Tennessee 37745 Map
1-423-636-8554
Nathanael Greene Museum
101 West McKee Street
Greeneville, Tennessee 37743 Map
1-423-636-1558
Hamblen County
Crockett Tavern Museum
2002 Morningside Drive
Morristown, Tennessee 37814 Map
1-423-587-9900
Hamilton County
Hawkins County
Haywood County
West Tennessee Delta Heritage Center
121 Sunny Hill Cove
Brownsville, Tennessee 38012 Map
1-731-779-9000
Henderson County
Beech River Heritage Museum
26 South Broad Street
Lexington, Tennessee 38351 Map
1-731-967-0306
Henry County
Humphreys County
Coal Miners Daughter Museum
44 Hurricane Mills Road
Hurricane Mills, Tennessee 37078 Map
1-931-296-1840
Humphrey's County Museum
201 Fort Hill Road
Waverly, Tennessee 37185 Map
1-931-296-1099
Johnson County
Butler Museum
123 Selma Curtis Road
Butler, Tennessee 37640 Map
1-423-768-3880
Knox County
Knoxville Museum of Art
1050 Worlds Fair Park Drive
Knoxville, Tennessee 37916 Map
1-865-525-6101
Old Smoky Railway Museum
306 West Depot Avenue
Knoxville, Tennessee 37917 Map
1-865-522-0713
Tourism and Sports Development Corporation
301 South Gay Street
Knoxville, Tennessee 37902 Map
1-865-523-7263
Lake County
Lauderdale County
Veterans' Museum
100 Arnold Field Road
Halls, Tennessee 38040 Map
1-731-836-7400
Alex Haley House Museum
200 Church Street South
Henning, Tennessee 38041 Map
1-731-738-2240
Lawrence County
Cherokee David Crockett Museum & Cultural Center
1 Public Square
Lawrenceburg, Tennessee 38464 Map
1-931-762-3733
Lewis County
Lewis County Museum
108 East Main Street
Hohenwald, Tennessee 38462 Map
1-931-796-1550
Lincoln County
Lincoln County Museum Associates
521 Main Avenue South
Fayetteville, Tennessee 37334 Map
1-931-438-0339
Stone Bridge Park Visitors Center
912 Shawnee Drive
Fayetteville, Tennessee 37334 Map
1-931-433-7757
Loudon County
Lenoir City Museum and Cotton Mill Site
110 East Depot Street
Lenoir City, Tennessee 37771 Map
1-865-986-9169
Located in the Knoxville area.
Loudon County Tourist Information Center
1075 Highway 321 North
Lenoir City, Tennessee 37771 Map
1-865-986-6822
Located in the Knoxville area.
Marshall County
Wyatt Archaeological Museum
2502 Lynnville Highway
Cornersville, Tennessee 37047 Map
1-931-293-4745
Located in the Lewisburg area.
Maury County
MT Pleasant Maury Phosphate Museum
108 Public Square
Mount Pleasant, Tennessee 38474 Map
1-931-379-9511
Located in the Columbia area.
McMinn County
McNairy County
Buford Pusser Home & Museum
342 Pusser Street
Adamsville, Tennessee 38310 Map
1-731-632-4080
McNairy County Museum
114 North 3rd Street
Selmer, Tennessee 38375 Map
1-731-646-0018
Meigs County
Meigs County Historical Museum
200 Smith Avenue
Decatur, Tennessee 37322 Map
1-423-334-4424
Monroe County
Hall Charles Museum
229 Cherohala Skwy
Tellico Plains, Tennessee 37385 Map
1-423-253-8000
Montgomery County
Clarksville Montgomery County Museum
200 South 2nd Street
Clarksville, Tennessee 37040 Map
1-931-648-5780
Moore County
Tennessee Walking Horse Museum
183 Main Street
Lynchburg, Tennessee 37352 Map
1-931-759-5747
Located in the Tullahoma area.
Morgan County
National Park Service
208 North Maiden Lane
Wartburg, Tennessee 37887 Map
1-423-346-9264
Obion County
Overton County
Overton County Historical Museum
318 West Broad Street
Livingston, Tennessee 38570 Map
1-931-403-0909
Located in the Cookeville area.
Polk County
Ducktown Basin Museum
212 Burra Burra Street
Ducktown, Tennessee 37326 Map
1-423-496-5778
Located in the Cleveland area.
Putnam County
Cookeville Depot Museum
116 West Broad Street
Cookeville, Tennessee 38501 Map
1-931-528-8570
Cookeville History Museum
144 South Lowe Avenue
Cookeville, Tennessee 38501 Map
1-931-520-5455
Roane County
Roane County Heritage Commission
119 Court Street
Kingston, Tennessee 37763 Map
1-865-376-9211
Located in the Harriman area.
Robertson County
Port Royal State Historic Area
3300 Old Clarksville Spgf
Adams, Tennessee 37010 Map
1-931-358-9696
Located in the Nashville-Davidson-Murfreesboro area.
Robertson County History Museum
124 6th Avenue West
Springfield, Tennessee 37172 Map
1-615-382-7173
Located in the Nashville-Davidson-Murfreesboro area.
Rutherford County
Oaklands Historic Site
900 North Maney Avenue
Murfreesboro, Tennessee 37130 Map
1-615-893-0022
Scott County
Scott High Museum
400 Scott High Drive
Huntsville, Tennessee 37756 Map
1-423-663-2805
Historic Rugby
5517 Rugby Highway
Robbins, Tennessee 37852 Map
1-423-628-2441
Sequatchie County
Coke Oven Museum
Mountain View Drive
Dunlap, Tennessee 37327 Map
1-423-949-2156
Located in the Chattanooga area.
Sullivan County
City of Kingsport City Hall Information
225 West Center Street
Kingsport, Tennessee 37660 Map
1-423-229-9400
Sumner County
Cragfont Museum House
300 Cragfont Road
Gallatin, Tennessee 37066 Map
1-615-452-7070
Located in the Nashville-Davidson-Murfreesboro area.
Tipton County
Tipton County Museum
751 Bert Johnston Avenue
Covington, Tennessee 38019 Map
1-901-476-0242
Located in the Memphis area.
Tipton County Museum Artifacts Warehouse
900 Douglas Street
Covington, Tennessee 38019 Map
1-901-476-0256
Located in the Memphis area.
Warren County
Monty Wanamaker's Southern Museum & Gallery
210 East Main Street
Mc Minnville, Tennessee 37110 Map
1-931-507-8102
Located in the McMinnville area.
Washington County
Hands On Regional Museum
315 East Main Street
Johnson City, Tennessee 37601 Map
1-423-928-6508
Jonesborough History Museum
117 Boone Street
Jonesborough, Tennessee 37659 Map
1-423-753-1015
Located in the Johnson City area.
Williamson County
Carter House Museum & Historical Site
1140 Columbia Avenue
Franklin, Tennessee 37064 Map
1-615-791-1861
Located in the Nashville-Davidson-Murfreesboro area.
Christus Gardens Tourist Attractions
109 Church Street
Franklin, Tennessee 37064 Map
1-615-794-2477
Located in the Nashville-Davidson-Murfreesboro area.
Wilson County
Wilson County Convention & Visitors Bureau
945 East Baddour Parkway
Lebanon, Tennessee 37087 Map
1-615-453-9655
Located in the Nashville-Davidson-Murfreesboro area.
---
Related Sites
Tennessee Map features road maps, topographical maps, and relief maps of Tennessee.
---
Copyright © 2006- Zeducorp.
All rights reserved.
Tennessee Travel & Tourism Information