The State of Georgia has a variety of museums, visitor centers, and cultural attractions in the following counties. Before visiting a museum listed on this page, be sure to check its address and hours of operation by visiting its website or contacting it. The museum may have relocated or closed, and hours of operation may be irregular. Tourist information is available at your fingertips by clicking on the Georgia county name you are interested in visiting.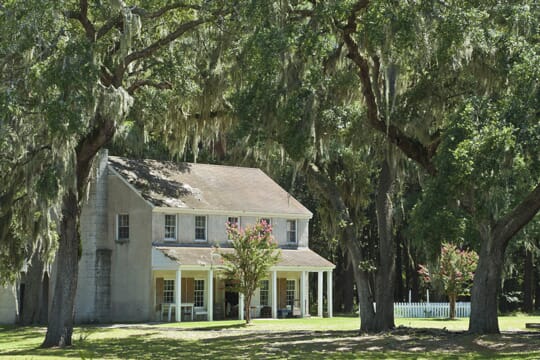 Fort McAllister Officers Quarters, Savannah, Georgia
Each county is suffixed by a parenthesized value, indicating the number of listings in that county.
Georgia Counties
---
Baldwin County
Georgia's Antebellum Capitol Museum
201 East Greene Street
Milledgeville, Georgia 31061 Map
1-478-453-1803
Bartow County
Ben Hill County
Jeff Davis State Historic Site
338 Jeff Davis Park Road
Fitzgerald, Georgia 31750 Map
1-229-831-2335
Bibb County
Bulloch County
Camden County
Catoosa County
Sixth Cavalry Museum
2 Barnhardt Circle
Fort Oglethorpe, Georgia 30742 Map
1-706-861-2860
Located in the Chattanooga area.
Georgia Visitor Information Center
2726 Interstate 75
Ringgold, Georgia 30736 Map
1-706-937-4211
Located in the Chattanooga area.
Chatham County
Cherokee County
Air Acres Museum Inc
376 Air Acres Way
Woodstock, Georgia 30188 Map
1-770-517-6090
Located in the Atlanta-Sandy Springs-Marietta area.
Clarke County
Clayton County
Historical Jonesboro Clayton County Inc
100 Carriage Lane
Jonesboro, Georgia 30236 Map
1-770-473-0197
Located in the Atlanta-Sandy Springs-Marietta area.
Clinch County
Agape Christian Bookstore & Agape Bible Museum
107 East Plant Avenue
Homerville, Georgia 31634 Map
1-912-487-5861
Cobb County
Colquitt County
Columbia County
Grovetown Museum
106 East Robinson Avenue
Grovetown, Georgia 30813 Map
1-706-868-6338
Located in the Augusta area.
The Laurel & Hardy Museum
250 North Louisville Street
Harlem, Georgia 30814 Map
1-706-556-0401
Located in the Augusta area.
Cook County
Reed Bingham State Park
Moultrie Highway
Adel, Georgia 31620 Map
1-229-896-3551
Coweta County
Erskine Caldwell Birthplace & Museum
Camp Street
Moreland, Georgia 30259 Map
1-770-251-4438
Located in the Atlanta-Sandy Springs-Marietta area.
Male Academy Museum
30 Temple Avenue
Newnan, Georgia 30263 Map
1-770-251-0207
Located in the Atlanta-Sandy Springs-Marietta area.
Decatur County
Southwest Georgia Visitor Information Center
101 Airport Road
Bainbridge, Georgia 39817 Map
1-229-243-8555
Dekalb County
Carlos Michael C Museum at Emory University
571 South Kilgo Circle Northeast
Atlanta, Georgia 30322 Map
1-404-727-4282
Muse Enterprises
5979 Buford Highway Northeast
Atlanta, Georgia 30340 Map
1-770-451-2425
Discovering Stone Mountain Museum
Georgias Stone Moun
Stone Mountain, Georgia 30083 Map
1-770-413-5086
Located in the Atlanta-Sandy Springs-Marietta area.
Dooly County
Walter F George Law Museum
112 4th St
Vienna, Georgia 31092 Map
1-229-268-3663
Dougherty County
Albany Civil Rights Movement Museum
326 Whitney Avenue
Albany, Georgia 31701 Map
1-229-432-1698
Albany Museum of Art
311 Meadowlark Drive
Albany, Georgia 31707 Map
1-229-439-8400
Douglas County
Jocada Museum of Jazz
6754 Broad Street
Douglasville, Georgia 30134 Map
1-770-947-1187
Located in the Atlanta-Sandy Springs-Marietta area.
Fannin County
Fannin County Heritage Foundation Inc
411 West First Street
Blue Ridge, Georgia 30513 Map
1-706-258-2645
Floyd County
Glynn County
Jekyll Island Information
Welcome Center 901 J
Jekyll Island, Georgia 31527 Map
1-912-635-3636
Located in the Brunswick area.
Gordon County
New Echota Historic Site & Museum
1211 Chatsworth Highway 225 North
Calhoun, Georgia 30701 Map
1-706-624-1321
Grady County
Grady County Museum
3 North Broad Street
Cairo, Georgia 39828 Map
1-229-377-5142
Hancock County
Sparta Hancock Museum
719 Elm Street
Sparta, Georgia 31087 Map
1-706-444-7462
Located in the Milledgeville area.
Haralson County
Tallapoosa Museum
185 Mann St
Tallapoosa, Georgia 30176 Map
1-770-574-3125
Located in the Atlanta-Sandy Springs-Marietta area.
Harris County
Chipley Historical Center
146 North McDougald Avenue
Pine Mountain, Georgia 31822 Map
1-706-663-4044
Located in the Columbus area.
Pine Mountain Wild Animal Park
1300 Oak Grove Road
Pine Mountain, Georgia 31822 Map
1-706-663-8744
Located in the Columbus area.
Heard County
Heard County Historic Museum
Court Square
Franklin, Georgia 30217 Map
1-706-675-6507
Located in the Atlanta-Sandy Springs-Marietta area.
Houston County
Museum of Aviation
Highway 247 and Russll
Warner Robins, Georgia 31088 Map
1-478-923-6600
Laurens County
Dublin Laurens Museum
311 Academy Avenue
Dublin, Georgia 31021 Map
1-912-272-9242
Liberty County
Midway Museum
Highway 17
Midway, Georgia 31320 Map
1-912-884-5837
Located in the Hinesville-Fort Stewart area.
Lowndes County
Lumpkin County
Crisson Mines & Tourist Division
2736 Morrison Moore Parkway
Dahlonega, Georgia 30533 Map
1-706-864-6363
Gold Museum
1 Public Square
Dahlonega, Georgia 30533 Map
1-706-864-2257
Meriwether County
Morgan County
Murray County
Vann House State Historic Site
82 Highway 225 North
Chatsworth, Georgia 30705 Map
1-706-695-2598
Located in the Dalton area.
Muscogee County
Columbus Convention & Visitors Bureau
900 Front Avenue
Columbus, Georgia 31901 Map
1-706-322-1613
Columbus Museum
1251 Wynnton Road
Columbus, Georgia 31906 Map
1-706-649-0713
Historic Linwood Foundation
721 Linwood Boulevard
Columbus, Georgia 31901 Map
1-706-321-8285
Paulding County
Paulding County Museum & Historical Society
295 North Johnston Street
Dallas, Georgia 30132 Map
1-770-505-3485
Located in the Atlanta-Sandy Springs-Marietta area.
Putnam County
Richmond County
Stephens County
Travelers Rest Historic Site
8162 Riverdale Road
Toccoa, Georgia 30577 Map
1-706-886-2256
Sumter County
Georgia Rural Telephone Museum
135 Bailey Avenue
Leslie, Georgia 31764 Map
1-229-874-4786
Located in the Americus area.
Talbot County
Old South Farm Museum
Pleasant Valley Road
Woodland, Georgia 31836 Map
1-706-674-2894
Thomas County
Thomasville Visitors Center
401 South Broad Street
Thomasville, Georgia 31792 Map
1-229-228-7977
Tift County
Tifton Museum of Arts & Heritage
255 Love Avenue
Tifton, Georgia 31794 Map
1-229-382-3600
Troup County
Chattahoochee Valley Art Museum
112 Hines Road
Hogansville, Georgia 30230 Map
1-706-882-3267
Located in the LaGrange area.
Turner County
Historic Preservation Commission
241 East College Avenue
Ashburn, Georgia 31714 Map
1-229-567-8002
Ware County
Okefenokee Heritage Center
1460 N Augusta Avenue
Waycross, Georgia 31503 Map
1-912-285-4260
Wilkes County
Washington Historical Museum
308 East Robert Toombs Avenue
Washington, Georgia 30673 Map
1-706-678-2105
---
Related Sites
Georgia Map features road maps, topographical maps, and relief maps of Georgia.
---
Copyright © 2006-2023 Zeducorp.
All rights reserved.
Georgia Travel & Tourism Information