The State of Washington has a variety of museums, visitor centers, and cultural attractions in the following counties. Before visiting a museum listed on this page, be sure to check its address and hours of operation by visiting its website or contacting it. The museum may have relocated or closed, and hours of operation may be irregular. Tourist information is available at your fingertips by clicking on the Washington county name you are interested in visiting.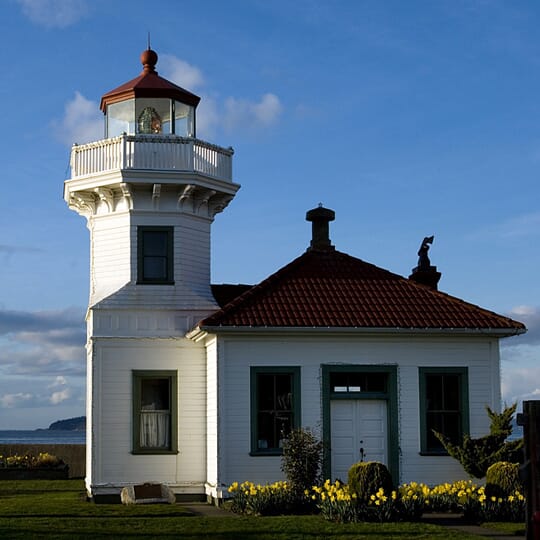 Mukilteo Lighthouse, Mukilteo, Washington
Each county is suffixed by a parenthesized value, indicating the number of listings in that county.
Washington Counties
---
Adams County
Burrough's Museum
408 West Main Avenue
Ritzville, Washington 99169 Map
1-509-659-1656
Asotin County
Museum Historical Society
215 Filmore Street
Asotin, Washington 99402 Map
1-509-243-4659
Located in the Clarkston area.
Hells Canyon Visitor Association
800 Port Way
Clarkston, Washington 99403 Map
1-509-758-7489
Benton County
East Benton County Historical Museum
205 Keewaydin Drive
Kennewick, Washington 99336 Map
1-509-582-7704
Benton County Historical Museum
1000 Paterson Road
Prosser, Washington 99350 Map
1-509-786-3842
Located in the Kennewick-Richland-Pasco area.
Chelan County
Leavenworth Nutcracker Museum
735 Front Street
Leavenworth, Washington 98826 Map
1-509-548-4573
Located in the Wenatchee area.
Upper Valley Museum at Leavenworth
347 Division
Leavenworth, Washington 98826 Map
1-509-548-0728
Located in the Wenatchee area.
Wenatchee Visitor's Bureau
116 N Wenatchee Avenue
Wenatchee, Washington 98801 Map
1-509-663-3723
Clallam County
Forks Timber Museum
PO Box 873
Forks, Washington 98331 Map
1-360-374-9663
Located in the Port Angeles area.
Makah Museum
PO Box 160
Neah Bay, Washington 98357 Map
1-360-645-2711
Located in the Port Angeles area.
Museum & Arts Center
544 North Sequim Avenue
Sequim, Washington 98382 Map
1-360-681-2257
Located in the Port Angeles area.
Clark County
North Clark Historical Museum
21416 Northeast 399th Street
Amboy, Washington 98601 Map
1-360-247-5800
Located in the Vancouver area.
Clark County Historical Museum
1511 Main Street
Vancouver, Washington 98660 Map
1-360-993-5679
Pearson Air Museum
1115 East 5th Street
Vancouver, Washington 98661 Map
1-360-694-7026
Columbia County
Cowlitz County
Cowlitz County Historical Museum
405 Allen Street
Kelso, Washington 98626 Map
1-360-577-3119
Located in the Longview area.
Douglas County
Douglas County Museum
124 West Walnut
Waterville, Washington 98858 Map
1-509-745-8435
Located in the Wenatchee area.
Ferry County
Republic Regional Vistors & Convention Bureau
979 South Clark Avenue
Republic, Washington 99166 Map
1-509-775-3387
Franklin County
Franklin County Historical Museum
305 North 4th Avenue
Pasco, Washington 99301 Map
1-509-547-3714
Garfield County
Garfield County Museum
708 Columbia Street
Pomeroy, Washington 99347 Map
1-509-843-3925
Grant County
Grant County Historical Museum
742 Basin Street Northwest
Ephrata, Washington 98823 Map
1-509-754-3334
Located in the Moses Lake area.
Grays Harbor County
Island County
Island County Historic Society
908 Northwest Alexander Street
Coupeville, Washington 98239 Map
1-360-678-3310
Located in the Oak Harbor area.
Museums USA
Broadway
Coupeville, Washington 98239 Map
1-360-678-5552
Located in the Oak Harbor area.
Jefferson County
Coast Artillery Museum
200 Battery Way
Port Townsend, Washington 98368 Map
1-360-385-0373
Kitsap County
Kittitas County
The Telephone Museum
221 East 1st Street
Cle Elum, Washington 98922 Map
1-509-674-5702
Located in the Ellensburg area.
Kittitas County Museum
114 East 3rd Avenue
Ellensburg, Washington 98926 Map
1-509-925-3778
Roslyn Museum
203 West Pennsylvania Avenue
Roslyn, Washington 98941 Map
1-509-649-2355
Located in the Ellensburg area.
Klickitat County
Gorge Heritage Museum
202 East Humboldt
Bingen, Washington 98605 Map
1-509-493-3228
Klickitat County Tourism
Maryhill Highway
Goldendale, Washington 98620 Map
1-509-773-4395
Lewis County
Mason County
Mason County Historical Society Museum
427 West Railroad Avenue
Shelton, Washington 98584 Map
1-360-426-1020
Okanogan County
Pacific County
San Juan County
Skagit County
LA Conner Quilt Museum
703 South 2nd
La Conner, Washington 98257 Map
1-360-466-4288
Located in the Mount Vernon-Anacortes area.
Museum of Northwest Art
121 South First
La Conner, Washington 98257 Map
1-360-466-4446
Located in the Mount Vernon-Anacortes area.
Sedro Woolley Museum
725 Murdock Street
Sedro Woolley, Washington 98284 Map
1-360-855-2390
Located in the Mount Vernon-Anacortes area.
Skamania County
Snohomish County
Spokane County
Stevens County
Chewelah Museum
501 North 3rd Street East
Chewelah, Washington 99109 Map
1-509-935-6091
Hunters Museum
5019 Highway 25 South
Hunters, Washington 99137 Map
1-509-722-4440
Thurston County
Wahkiakum County
Wahkiakum County Museum
65 River Street
Cathlamet, Washington 98612 Map
1-360-795-3954
Walla Walla County
Whatcom County
Yakima County
---
Related Sites
Washington Map features road maps, topographical maps, and relief maps of Washington.
---
Copyright © 2006-2023 Zeducorp.
All rights reserved.
Washington Travel & Tourism Information